Scalia's Son: Conspiracy Theories About His Father's Death a 'Hurtful Distraction'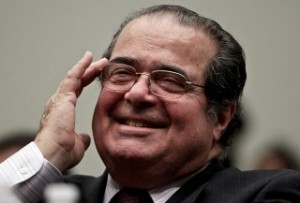 Speaking to conservative commentator Laura Ingraham on her radio show Wednesday, Eugene Scalia spoke about his late father, Justice Antonin Scalia, and dismissed the conspiracy theories surrounding his death as a "hurtful distraction" from his legacy.
"He seemed sort of a permanent institution," Scalia said, "but he would have been the first to tell you — the first — that we're from dust, we return to dust, your life could be taken from you at any instant. He was a month shy of 80 years old […] but I knew and he knew that he was at a place in life where he could be taken from his world at any time. And that's what happened last week. Our family just has no doubt that he died of natural causes. We accept that."
"I think it's a distraction from a great man and his legacy," Scalia added. "On a personal level I think it's a bit of a hurtful distraction for a family that's in mourning."
The Drudge Report kicked off the conspiracy angle by reporting the Justice's death with the headline "Scalia Found Dead With 'Pillow Over Head;" radio shock jocks Alex Jones and Michael Savage demanded an investigation into Scalia's potential murder; and Trunews host Rick Wiles averred that Scalia was killed by President Obama as a human sacrifice to kick off the festival of Lupercalia and bring about a pagan, fascist rule.
Ingraham described the preponderance of conspiracy theories as the "stupidest ridiculous thing."
Have a tip we should know? tips@mediaite.com