Herman Cain Jokes That, If Elected, He'll Put A Godfather's Pizza Kitchen In The White House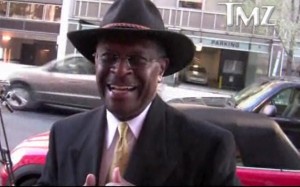 Herman Cain isn't having the best Halloween, with sexual harassment allegations swirling around him, but a paparazzo from CelebrityQandA.com got some fun moments with him on his way into a campaign appearance, and gave Cain a chance to speak on the important issue…of bringing Godfather's Pizza to D.C.
If he's elected president, Cain said he'd go a step beyond a franchise and put a fully-functioning Godfather's kitchen in the White House, making the pizza, "on premises." And when asked if he could do the Dougie, Cain said he didn't even know what it was, but he did promise to learn it if he won. "I can't do the Dougie," he joked. "I've been too busy running for President."
RELATED: Geraldo Blasts Herman Cain's Spokesman For Not Denying Sexual Harassment Claims
One question Cain couldn't answer was if Godfather's Pizza had seen an increase in sales since he began his quest for the nomination (he just didn't know the answer). Fast Company's Austin Carr, however, had already contacted several Godfather's branches — the company's main office wouldn't reveal any numbers — and found that sales had barely been affected with all the free publicity Cain has been giving the brand. One branch had seen a business boom, while most of the others, "from Topeka, Kansas, and Chesterton, Indiana, to Omaha, Nebraska, and Houston, Texas, to Forest Grove, Oregon, and Savannah, Georgia, reported no change in business due to Cain's newfound stature." An owner in Montana didn't even know who Cain was.
But there was some good news:
Most franchises indicated Cain had caused a buzz among customers, even if he didn't help to spike sales. "I had one guy passing through who was staying at a nearby hotel," recalls one franchise manager. "He said he'd heard so much about Herman Cain, but never had his pizza. So when he saw Godfather's, he just had to come try it."
Enjoy the video of Cain's pop culture promises, courtesy of TMZ, below:
Have a tip we should know? tips@mediaite.com