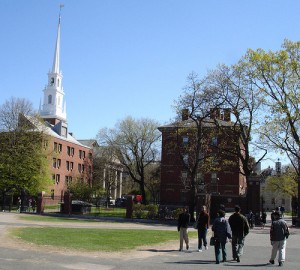 Over at their college admissions blog, The Choice, the New York Times seems to have finally mastered the art of Web 2.0, in which a publication and its readers interact and collaborate. This week, they're hosting William R. Fitzsimmons, the dean of admissions and financial aid at Harvard, who will be fielding questions from the comment section about his elite institution and the admissions process in general. With clever moves like this, the Times is finally owning its role as the paper of all papers, and flaunting the connections that come with prolonged prominence.
But is the Grey Lady shamelessly pandering to its aspirational reader-base — likely wealthy and college-educated, with children approaching high school graduation? It's perfect symbiosis really: Dean Fitzsimmons can exercise his nearly forty years of experience and expertise, heightening the exclusivity of Harvard's already illustrious brand in the process, while the Times provides a unique "service" to its upwardly mobile readers and their university-bound kids.
As the school year heats up, the internet version of "face time" with a hot commodity like an Ivy League dean can take some serious string-pulling. But leave it to the Times! At this writing, the thread is filled with nearly 400 comments, almost all of which are essay-length questions about how to get into Harvard. A lot of the inquiries, though, come with a preface, generally in the form of a résumé summary along the lines of the first post, which begins:
My daughter, a sophomore in high school, is an excellent student. She has top grades earned in the hardest classes. She plays varsity volleyball and is an active girl scout. She's a great writer with many short stories published in online forums. It would seem that she would be a good candidate for Harvard.
Clearly, an appearance in the paper's online pages by a real live Harvard dean (!) is an exciting prospect to overeager parents, leading one commenter to wonder, "Don't you think it's absurd that all these people are obsessed with getting their kids into Harvard?" But judging by how quickly their readers were sent into such a tizzy, it seems the Times has found a reader-pleasing sweet spot. Journalism? Maybe not. Savvy business? Most definitely.
Have a tip we should know? tips@mediaite.com