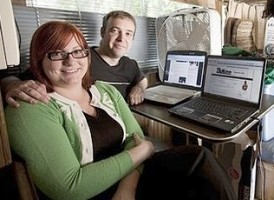 Brianna Karp, the homeless woman who is receiving national attention for landing a prestigious internship with Elle Magazine, was also recently evicted from the Wal-Mart parking lot where she had been parking her RV. The truck, trailer, and all of her possessions have been accruing storage charges at an impound lot since it was towed on August 13. The total amount to get the vehicles out of impound is now over $3,000.00.
According to Brianna, she had been given permission to park there by the store's manager, and was given no notice of the tow.
I contacted Wal-Mart's corporate headquarters last Thursday, and they seemed eager to help. A Wal-Mart spokesperson told me that they were unaware of Brianna's situation, despite her repeated inquiries. Mediaite has learned that Vicki Day, of UK public relations firm Pure Sauce, has also been in touch with Wal-Mart UK for several weeks on Brianna's behalf.
The spokesperson asked me to have Brianna call Wal-Mart directly. Brianna reports that she spoke to Dave Tovar, Wal-Mart's Director of Media Relations, on Friday afternoon. After confirming with local police that the tow was not ordered by the city, and that there was no ordinance prohibiting overnight parking, Tovar agreed to look into a resolution.
As of this writing, Brianna is waiting to hear back from him. I spoke with Dave last night, and he says they are still working on a resolution.
Bri's story is a fascinating one, laid out grippingly on her website. She began the story in February with this simple lede:
In three days, I will be homeless.
From there, she recounts her life up to that point, one that includes both the trials of Job and the fact that she has been holding down paying jobs since the age of 10. Then, she gets down to the business of surviving homelessness. All of it, the harrowing safety tips, the impound foreshadowing , is told with an acid wit, a razor's edge, and a punk-rocker's abandon. Sample paragraph:
Trailer smells funky (like fat, greasy man and dead animals/fish – the dude apparently did a lot of hunting and fishing) and has a lot of junk in it that I'll have to dump today so that I can fit my own boxes and Fezzik's crate in there. I'm less bothered by the smell and the mess than by the idea that I'll be sleeping on the bed that my pervert, drug-addict sperm donor used to jack off in, before he blew his brains out with a Remington 12-gauge. Ew. But, c'est la vie, have to roll with the punches, Oedipal/Electral undertones aside. First thing though, I'm stripping those bed linens and putting my own blankets on.
Later, in a poetically of-the-moment twist, she meets the man who turns out to be her true love by gaining him as her first Twitter follower.
Brianna was interviewed by CNN last night, and is set to appear on the Today Show this morning in the infamous 4th hour. Her new job, and the attention surrounding it, are sure to raise her profile, and might even render the need for the trailer moot. For now, though, it would be nice to see this wrong righted. We will keep you posted.
Have a tip we should know? [email protected]