Hillary Clinton Addresses Remarks About Trump Voters: 'I Meant No Disrespect'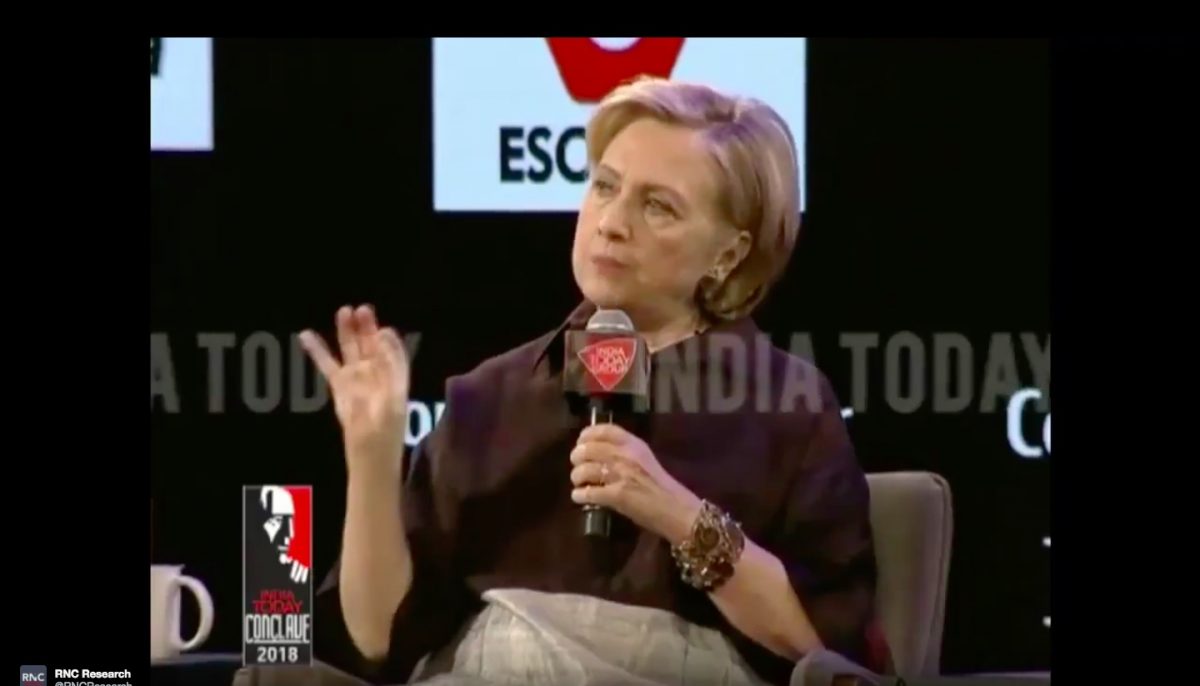 Here we find the Hillary Clinton in its natural habitat, apologizing for a comment she made that incensed all manner of folks.
Clinton, taking to Facebook for what seems like the umpteenth time to explain what she meant by something she said, took to social media to clarify comments she made speaking in India about the 2016 election.
"My first instinct was to defend Americans and explain how Donald Trump could have been elected," she wrote. "I said that places doing better economically typically lean Democratic, and places where there is less optimism about the future lean Republican. That doesn't mean the coasts versus the heartland, it doesn't even mean entire states. In fact, it more often captures the divisions between more dynamic urban areas and less prosperous small towns within states."
She went on to say that Trump is doing "nothing positive to ease the pain of the people who most strongly supported him," citing the loss of coal jobs and the continued devastation of the opioid epidemic.
Clinton then addressed a comment she made that she has been skewered for: that research and anecdotal evidence suggest that women may vote the way their husbands do more than vice versa.
"As much as I hate the possibility, and hate saying it, it's not that crazy when you think about our ongoing struggle to reach gender balance – even within the same household," Clinton wrote. "I did not realize how hard it would hit many who heard it… It may not be universally true or easy to hear, but yes, it's a dynamic still at play in our society. I know this because even I spent parts of my life wondering if I could achieve the same as male leaders, and a lot of that insecurity stemmed from my gender and how society views women.
"When I was serving in various roles in public life, I was always more popular when I was working for or defending a man then when I was out there on my own," she continued. "That's the point I was making, in an effort to explain to an audience some of the many dynamics that have gone into these tumultuous last few years.
"I understand how some of what I said upset people and can be misinterpreted," she added. "I meant no disrespect to any individual or group."
She then directly addressed those who criticized her for being stuck on the 2016 election and not looking to the future.
"Our future requires us to learn from 2016," she wrote. "We need to protect our election systems from intrusion by Russia or anyone else. We need to combat voter suppression and the propagation of fake and misleading news. I fear we are not doing anywhere near enough on those fronts, and I know we can do better."
[image via screengrab]
Have a tip we should know? tips@mediaite.com