Hillary Stands by Calling Republicans Enemies: 'They Say Terrible Things About Me'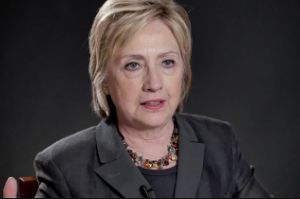 Hillary Clinton sat for a wide-ranging interview this weekend, during which time she shrugged off the implications of one of her most controversial moments during the Democratic primary debates.
At the first Democratic Party debate, Clinton turned quite a few heads when she told Anderson Cooper that of all the political forces she opposed over her career, the enemy she was most proud of was "Republicans." After discussing economics, Vox's Ezra Klein asked her about whether that response only adds to the divisiveness and tensions of America's political climate.
Clinton again said that she is much better at cooperating with Republicans when she's not competing against them, and that her debate response is just part of the rough-and-tumble of current political discourse.
"They say terrible things about me, much worse than anything I've ever said about them," Clinton said. "That just seems to be part of the political back and forth now, to appeal to your base, to appeal to the ideologues who support you."
While Clinton urged people to be accepting of a more open dialogue, Klein noted in his post-interview recap that Clinton's answer was hardly an apology.
"It's a weird answer," Klein wrote. "I spent a lot of time puzzling over her response and asking people about it, and I've come to think that the right interpretation is the one that is also hardest to credit: She believes what she said."
Watch above (start at 33:00 for the relevant part), via Vox.
[h/t Washington Free Beacon]
[Image via screengrab]
— —
>> Follow Ken Meyer (@KenMeyer91) on Twitter
Have a tip we should know? tips@mediaite.com