Hindsight's 20/20: O'Reilly's Talking Points On Sherrod Story Are Already Off Target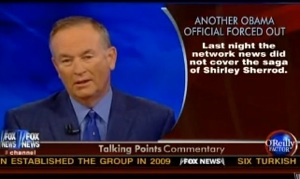 "Journalism in America is in dire trouble." This was the basic theme of Bill O'Reilly's opening segment last night, a bit that he calls his "Talking Points," which lashed out at the lack of coverage of the Shirley Sherrod story on network news. O'Reilly claims that journalists are loathe to cover problems within the Obama administration – and by some accounts that may be true. But in this instance, the measured approach of network news journalists appears to have been the right way to go.
To wit: without knowing the complete facts in this case, O'Reilly called for Sherrod to resign two nights ago when this story had broken (ostensibly before her resignation had been announced.) Last night he doubled down, replaying that very clip of his call for her to step down, perhaps unaware that the full context of the speech changed the meaning of her comments so dramatically, that even Fox News reporter James Rosen was no longer focusing on Sherrod's comments, but rather asking why the White House was railroading the former USDA employee.
To some degree this is understandable – O'Reilly tapes his show a few hours before air time, and the story was very fluid at the time of taping (in fact, it still is – as White House Press Secretary Robert Gibbs has just revealed the Agriculture Secretary Vilsack intends to contact Ms. Sherrod to apologize.) But one wonders if given all the information that is now before him, if he still feels that Sherrod should resign, and if not, will he apologize?
Update – Mediaite has learned that O'Reilly's producer reached out to the USDA for comment yesterday at 2:30 PM, taped the show at 5:00 PM, and did not hear back until 6:58 PM when Ms. Sherrod's resignation was announced.
Have a tip we should know? tips@mediaite.com