How Much Do People Care About Bridgegate Compared to IRS, Benghazi, NSA, Etc.?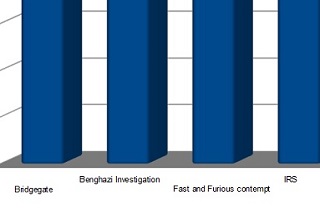 The unfolding Bridgegate scandal has garnered intense media attention since last Wednesday, when the story broke wide open on the strength of subpoenaed documents, and a two-hour press conference by Governor Chris Christie (R-NJ). Conservatives have tried to make substantive comparisons between the Bridgegate story and various spokes in last year's Obama Scandalabra™, while also taking comfort in apparently soft public interest in the story.

The substantive comparisons are intense fodder for cable news debate, but the most popular of these — the IRS kerfuffle — finished falling apart today, as CNN reported that there will be no charges. However Bridgegate finishes, it has already reached deeper into Christie's administration than the IRS controversy ever did into the Obama administration (to be specific, not at all). It wasn't long ago that 60 Minutes dealt the final blow to discredited attempts to turn Benghazi into a political scandal. If you can even remember the AP leak investigation controversy, the leaker in that case recently agreed to a 43-month prison sentence in that case.
Substantive comparisons aside, though, assessing the public's interest in these stories should be a somewhat simpler task. The most recent Pew News Interest survey shows 18% of Americans following the Christie Bridgegate saga "very closely," with another 21% following it "fairly closely," while stories about the weather, the economy, and the debate over extending unemployment insurance scored higher. Christie backers may take comfort in such a low number, which could change dramatically depending on how the story evolves, but it's worth noting that public interest in the economy always scores high on Pew's surveys, and hasn't been below 28% since November of 2007. As for the cold weather, public interest in such stories is also typically high, and reached 51% during the last Polar Vortex, in 1994.
The variance in competing stories makes it difficult to do an apples-to-apples comparison of the Bridgegate story to other news stories, and Bridgegate is still in its infancy, but to the extent that it can be done, and for whatever it's worth, here's how Bridgegate stacks up against other stories in Pew's News Interest Index, using the peak public interest in each story at the time:
[imageviewer id=1771]



source: Pew News Interest Index
Have a tip we should know? tips@mediaite.com