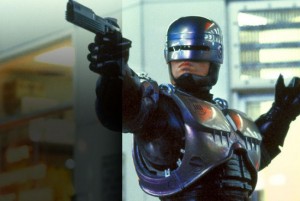 Ah, the power of a Twitter joke. Last Monday, someone jokingly tweeted to Detroit Mayor Dave Bing that the city should erect a statue of RoboCop, the fictional character who protected a crime-ridden Motor City in his eponymous 1987 movie. Bing dryly responded that there were no plans to build the statue, a tweet which numerous news sources picked up. Once the news got out, fans began to organize a fundraiser to donate the statue which the Mayor said he'd consider accepting. Meanwhile, I joke on Twitter about meeting the now-single Olivia Wilde and absolute jack all comes of it. Life's just not fair.
It all started when Twitter user @MT sent this Tweet out purely as a "non sequitur to make my friends laugh."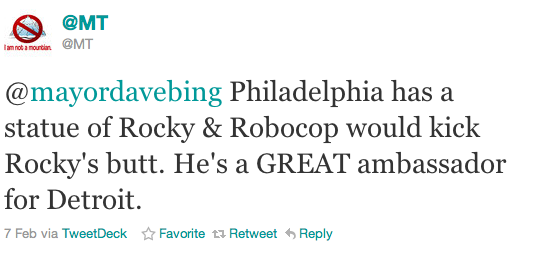 Bing (or someone on his PR staff) responded with this: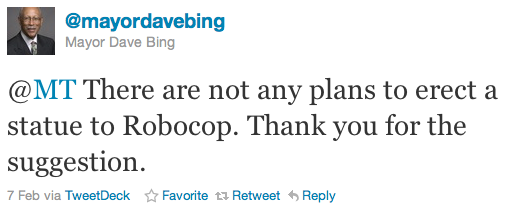 Since this has been a slow news week (and probably because the movie RoboCop is still awesome. Paul Verhoeven for the win!), the story of the interaction got picked up with many people exaggerating what was a jokey Twitter conversation into a story about how Detroit's Mayor thinks a statue celebrating a movie in which his city is a dystopian hellhole is a bad idea. This led to the real online campaigns.
A Facebook page was created in support of the statue and soon had thousands of members. This led to a Kickstarter campaign designed to raise $50,000 to build the statue. The nonprofit group, Imagination Station, which is designed to clean up an area of the city's Roosevelt Park, offered up a spot of land for the statue. And then, most importantly, the Mayor said he'd consider this fan-paid-for statue.
From Reuters:
"Bing's spokeswoman, Karen Dumas, told the Detroit Free Press that the mayor would consider using public land for a donated RoboCop statue.

'Should the opportunity present itself to receive a donation of this or any other works of public art, we will consider acceptance and appropriate placement,' she said."
All the while, original tweeter MT has seemingly felt increasingly uncomfortable with the mess they started. For good reason too. Not only was he or she kidding, they'd never even seen the movie before! MT finally watched it today. They didn't like it.


Oh well, the snowball's already half-way down the mountain now and there's no stopping it. So, if you think you'd like to buy a RoboCop statue for a dollar (or more!), donate to the worthy cause here.
Have a tip we should know? tips@mediaite.com