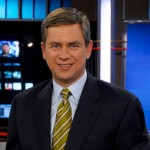 I remember the exact time – 8:49 am – when I got word from our assignment desk that we had a shot of a "small fire" at the top of one of the World Trade Center towers.
We came back on the air from a commercial break with a wide view of the World Trade Center towers. And I started talking. And interviewing. I continued to talk without pause until about 7:00 pm that evening. Little did I know we had just started a continuous commercial-free broadcast on NY1 that would last for three weeks.
The memory of that morning got me thinking about how the news business has (and hasn't) changed in the eight years since the terrorist attacks of September 11.
Even in 2001, there was no shortage of real-time imagery. We had footage of the plane hitting the first tower and the tower collapsing to the ground. But I imagine that today, assuming the wireless phone networks held up, our first images would come from a flurry of picture postings on Twitter. I don't think you can you even buy a phone nowadays that doesn't have a camera in it.
Even more eerie is the realization that Twitter updates would have been coming from inside the Twin Towers as people waited for help to arrive. Would we have reported on "eyewitness" accounts from Twitter without anyway to confirm the writer's identity or location? I don't know. But I can imagine some very tricky editorial decisions would have to be made.
There's no question that citizen journalism has its place. It was Twitter users that posted the first photos when US Airways Flight 1549 went down in the Hudson River earlier this year. And both Twitter and Facebook proved to be vital tools in the bloody protests that followed Iran's recent elections. But I'm confident that old-fashioned TV still has a place.
People gathered together around TV sets all over the country that morning because when disaster strikes or a big story breaks, nothing replaces well-produced TV news. The industry's only challenge now is to figure out a business model that keeps the revenue flowing so we have the resources to be there for the next big story.
Think of all the staff and technical reach required for the coverage eight years ago: There were cameras in dozens of locations in New York. And video feeds coming in from DC, Virginia, Pennsylvania and at least 3 locations where President Bush made himself available. Networks pulled those pieces together and documented every development as the nation dealt with the shocking blow of September 11.
I don't want to dwell on covering the next big disaster story. Nor do I think some recent examples – Michael Jackson and the early Swine Flu panic, to name a couple – warranted the extensive coverage they received. Local TV newsrooms around the country have been crippled by layoffs. At least two New York City local TV operations are much leaner than they were 8 years ago, and I know they'd struggle today to get enough people in place to match their 2001 reporting. (We've been lucky at NY1 to hang on to a newsroom staff that's about as large as our 2001 crew.)
The realities of the broadcast business today support what the market keeps telling us, that cities will be better served with two or three strong TV news operations rather than four or five struggling ones.
And though I've traditionally believed that the public deserves having as many news sources as possible, the time for that thinking may be in the past. The Internet and citizen reporting provide invaluable individual accounts. But we need to find a balance so that when a story like September 11 breaks, we still have a TV broadcast to gather around, together.
TV newsman Pat Kiernan picks his favorite stories from the morning papers each weekday on NY1 News and PatsPapers.com. He's known to VH1 fans as the host of World Series of Pop Culture. Twitter: @patkiernan
Have a tip we should know? tips@mediaite.com