Hugh Hewitt Gets Back On the Trump Train Because 'Hillary Clinton is the Real Risk'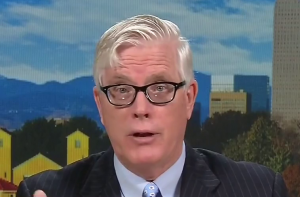 What a difference a week makes. That's how long it took conservative radio host and paid MSNBC political analyst Hugh Hewitt to go from urging the Republican Party to snake Donald Trump and the convention and choose another nominee, to getting back on board the Trump Express. It was just days ago that Hewitt was drawing threats that Trump's campaign would ban him from the convention, and now Hewitt has taken to the pages of a newspaper that actually has been banned by Trump in order to make the case that Republicans should now back Trump, because Hillary Clinton is "the real risk":
The tragedy in Orlando shifted the nation's attention back to the enormous threat posed by radical Islam, and Trump demonstrated that unlike Clinton and Obama, he understands the magnitude of the crisis. What is happening in real time is a return by Trump to a sharp focus on national security and immigration reform — a focus that brought him victory after victory in the fall. If he stays on those themes, and the über-theme of shoving aside political correctness, Trump's appeal will steady and then climb. Why? Because Americans are tired of having a president who won't level with them about the so-called "jayvee team" that became a global threat.

Trump's task now is clear: It's time to abandon his off-the-cuff remarks, disengage from his battles with the media and methodically prosecute the case that throughout her career, Clinton has consistently displayed a disqualifying lack of judgment. He needs to develop this argument, detail it and drive it home.
Of course, that was yesterday. Give it a few minutes.
The main impetus for Hewitt's shift seems to have been the terrorist mass shooting in Orlando this past weekend, which could make his new position more durable than his last, but if Trump's toxicity at the polls continues to threaten Republican prospects up and down the ballot, we might soon be looking at another new Hugh.
Have a tip we should know? tips@mediaite.com