'I Want You to Lose': Harry Reid Reportedly Snapped at Dem Rep. for Being 'Disruptive'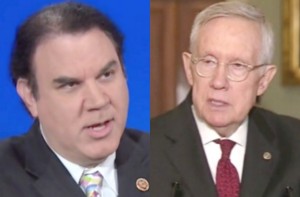 It's rare for an intra-party feud to be so public, and yet that appears to be what's happening between Harry Reid and Alan Grayson.
Grayson has a reputation for being remarkably outspoken. His first big claim to fame was declaring that the GOP's health care plan is "don't get sick, and if you do get sick, die quickly." Since then, he has made bold pronouncements about how much Democrats love him, asked a reporter if he was a "shitting robot," called a female lobbyist a "K street whore," and, oh yeah, came under fire for alleged domestic abuse.
After a report came out months ago about the ethical issues surrounding Grayson being both a congressman and a hedge fund manager, Reid publicly called on him to drop his Senate bid, saying his actions are 'disgraceful" and that "it seems like he has no moral compass."
Which brings us to today, where both Grayson and Reid were in the room during a Progressive Caucus meeting. And apparently things got nasty:
In Progressive Caucus meet, #FLSEN hopeful @AlanGrayson attacked Harry Reid for calling on him to drop out over ethics scandal, sources say

— Scott Wong (@scottwongDC) May 11, 2016
Reid was guest at meeting. Grayson read quote Reid had made about him and Cayman Islands issue. "Shame on you. It's not true," Grayson said

— Scott Wong (@scottwongDC) May 11, 2016
Reid immediately replied to Grayson: "It is true and I want you to lose"

— Scott Wong (@scottwongDC) May 11, 2016
Source: "All the members were appalled" by Grayson's behavior. "It was embarrassing for him & embarrassing for us that he behaved that way"

— Scott Wong (@scottwongDC) May 11, 2016
Grayson kept asking Reid: "Do you know my name?"

Keith Ellison others had to ask Grayson to quiet down, per source in room.

— Alex Seitz-Wald (@aseitzwald) May 11, 2016
Reid's office issued a response confirming that Grayson was "disruptive, to the embarrassment of his fellow colleagues":
Response from HARRY REID's office pic.twitter.com/BssDUku5Gt

— Scott Wong (@scottwongDC) May 11, 2016
[image via screengrab]
— —
Follow Josh Feldman on Twitter: @feldmaniac
Have a tip we should know? tips@mediaite.com
Josh Feldman - Senior Editor