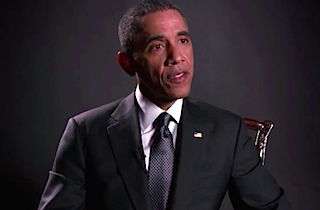 After President Barack Obama sat down with Vox editor-in-chief Ezra Klein to discuss domestic policy, including the "Balkanization" of the media, he moved onto to foreign policy with executive editor Matt Yglesias. This time, during a question about how the media covers terrorism, the president made a bold admission about how the war in Iraq affected our national security here at home.
Yglesias asked Obama if he thinks the media "sometimes overstates the level of alarm people should have about terrorism" as opposed to longer-term problems like climate change and epidemic disease.
"Absolutely," the president responded, saying he doesn't blame the press for embracing the old adage, "If it bleeds, it leads." Obama acknowledged that it's lot harder to make climate change or cutting infant mortality a "sexy story."
But, at the same time, Obama said, "It is entirely legitimate for the American people to be deeply concerned when you've got a bunch of violent, vicious zealots who behead people or randomly shoot a bunch of folks in a deli in Paris. We devote enormous resources to that, and it is right and appropriate for us to be vigilant and aggressive in trying to deal with that — the same way a big city mayor's got to cut the crime rate down if he wants that city to thrive."
"But we also have to attend to a lot of other issues, and we've got to make sure we're right-sizing our approach so that what we do isn't counterproductive," he continued. "I would argue that our invasion of Iraq was counterproductive to the goal of keeping our country safe."
The remarks harken back to a speech then-State Senator Obama made in October of 2002 in opposition to the Iraq invasion that would come just a few months later. "I am not opposed to all wars," he famously said at the time. "I'm opposed to dumb wars."
What the president seemed to be saying this time was, if we never invaded Iraq in the first place, we likely wouldn't be dealing with ISIS today.
Watch video below, via Vox:
[Photo via screengrab]
— —
>> Follow Matt Wilstein (@TheMattWilstein) on Twitter
Have a tip we should know? tips@mediaite.com