If Rupert Murdoch Really Wants to Charge for Content This Is What I'm Willing to Pay For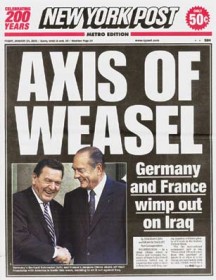 When the Times reported today that former Mayor Rudy Giuliani is considering running for Governor of New York — and really the field could not be any more wide open — my first thought (after the panic subsided) was how thrilled the New York Post would be to have Hizzoner Rudy back as a regular cover subject: elephant dung wars, the public dumping of his second wife, Rudy's eight year term was really a match made in Heaven for the Post. My second thought was a nice little round-up of the best Post covers from the Giuliani era might be a fun dog days August afternoon post.
Alas! New York Post covers — arguably the best dose of daily pop art available — are not that easy to come by online. The website's cover archive only goes back to October 11, 2006, which is great, but barely even scrapes the tip of the iceberg. If Rupert Murdoch really wants to start charging for his online sites, archiving all the New York Post covers from the last 50 years would be a great place to start. I would pay for access to that in a heartbeat: unlike the NYT, the Post doesn't need to wait for Obama to do something historical to jack up its cover value; a quick browse of what's already available quickly reveals many of the covers have a timeless quality about them. Regardless of how you feel about the Post's content it's nearly impossible not to enjoy the daily newsstand theater its front page provides. Why the MOMA hasn't already jumped on this for some sort of retrospective is baffling. In the meantime, some of the best from what I could find floating around these interwebs — now just pretend you have the whole shebang at your fingertips.
View our gallery of covers here.
Have a tip we should know? tips@mediaite.com