In 1995 Video, Eric Holder Says We Need To 'Really Brainwash People' Against Guns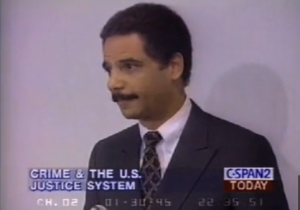 A 1995 video shows Attorney General Eric Holder adamantly arguing for a stronger anti-gun message. Similar to campaigns against cigarettes, Holder said a public campaign needs to "really brainwash people into thinking about guns in a vastly different way."
RELATED: Eric Holder Admits To Congress: Fast And Furious Was Executed 'Extremely Poorly'
In the footage posted by Breitbart.com, Holder is seen speaking to the Women's National Democratic Club. In his address, he said:
What we need to do is change the way in which people think about guns, especially young people, and make it something that's not cool, that it's not acceptable, it's not hip to carry a gun anymore, in the way in which we changed our attitudes about cigarettes.
Holder talks about an informational campaign to change "hearts and minds," especially given the media saturation when it comes to violence. Too many young people are "fascinated" by guns and violence, he said. Ad agencies who make him buy things he doesn't really need, he said, should devote their efforts to a better cause.
Of course, a pro-gun control stance from Holder is nothing surprising. On Big Journalism, Mary Chastain argues the 1995 video foreshadow's Operation Fast and Furious (which came back to haunt Holder). Chastain said the operation, " in which Holder's Department of Justice (DOJ) smuggled guns illegally to Mexican drug cartels — could finally have provided Holder the material for that anti-gun curriculum." She cites it as "more evidence that it was to be used for more gun control."
Take a look, via Breitbart TV:

(H/T Breitbart.com)
Have a tip we should know? tips@mediaite.com