In 2008, NY Times 'Basked' In 'Warm Glow' Of Obama Election, Now Takes 'Hard Look' At President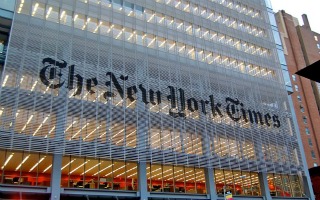 On Sunday, in an editorial entitled "A Hard Look At The President, New York Times public editor Arthur Brisbane chides his colleagues, his paper and himself for forgetting their duties as reporters when Barack Obama ran for president in 2008. This time around, Brisbane says that the Times has a duty to vet the president more thoroughly.

RELATED: Mika Brzezinski Compares Joe Scarborough To 'A Gay Stylist' In NYT Interview
"Four weeks ago, I criticized The New York Times for overplaying an article on an investment made by Ann Romney's blind trust," Brisbane began. "The article was but one installment of the intense campaign coverage scrutinizing Mitt Romney as he bids for the Republican presidential nomination. During this period, we haven't heard as much from The Times about President Obama's re-election effort."
Like a lot of America, it basked a bit in the warm glow of Mr. Obama's election in 2008. The company published a book about the country's first African-American president, "Obama: The Historic Journey." The Times also published a lengthy portrait of him in its Times Topics section on NYTimes.com, yet there's nothing of the kind about George W. Bush or his father.
Brisbane cites reports that show the Times gave President Obama more favorable coverage than his Republican competitors, or his GOP predecessors President Bush 43 or his father, George H.W. Bush. Brisbane praises his colleagues, who see themselves as "aggressive journalists;" he does not attribute bias against to any directive or concerted effort. However, he says that this bias makes its way into even apolitical reporting.
Still, a strong current of skepticism holds that the paper skews left. Unfortunately, this is exacerbated by collateral factors — for example, political views that creep into nonpolitical coverage.

To illustrate, Faye Farrington, a reader from Hollis, N.H., wrote me earlier this year in exasperation over a Sunday magazine article about "Downton Abbey," the public television series, in which the writer slipped in a veiled complaint about Mitt Romney's exploitation of the American tax code.
Mrs. Farrington cancelled her subscription – she did, however, continue to receive the Sunday edition for the crosswords.
The warm afterglow of Mr. Obama's election, the collateral effects of liberal-minded feature writers — these can be overcome by hard-nosed, unbiased political reporting now.
Brisbane goes on to outline the events in recent memory when the Times went out of their way to push critical and dubious stories about Republicans that had the subtle goal of damaging their candidacies or terms in office.
I applaud The Time's stated commitment to doing these kinds of stories. Readers deserve to know: Who is the real Barack Obama? And The Times needs to show that it can address the question in a hard-nosed, unbiased way.
h/t NYT
Have a tip we should know? tips@mediaite.com