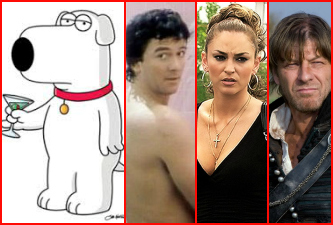 Growing up, Tuesday nights on ABC were the best ever. Despite being just nine years old in 1980, my mother allowed me to make my own dessert, which consisted of extra-buttered microwave popcorn and a homemade vanilla milkshake (the latter effort was closely supervised). It was all in preparation of a lineup for the ages: Happy Days, Laverne and Shirley, Three's Company, Taxi, and Hart to Hart at 10:00 PM (being allowed to stay up to watch my first crush in Stephanie Powers took some serious begging).
Through the years, I've had various shows from all kinds of genres that were/are ranked in my #1 spot: The Dukes of Hazzard, Moonlighting (the first two seasons, anyway), The Simpsons (the first five seasons), Seinfeld (seasons 2 through 6), Entourage, (complete with before-going-out-at-the-Jersey-Shore viewing parties on Sunday nights during the summer), The Sopranos (all of it), and most recently, Kevin Spacey's tremendous House of Cards.
So when considering who made the cut for this list of the top five TV deaths of all-time (in honor of the four-legged Brian Griffin), please know I took this effort very, very seriously. CNN was also cool enough to allow me to do a web segment on the topic for Erin Burnett's Outfront program, which you can view here.
Chuck Cunningham on Happy Days
OK, so he wasn't technically killed off, but never has a character been totally erased from a family with zero explanation quite like Richie (Ron Howard) and Joanie's (Erin Moran) older brother. Some of you weren't around for TV's former #1 show (but repeats are still abound), but in the second season (1975), Chuck walked upstairs and somehow was never heard from again. From that point on, the Cunningham family acted as if he never existed. Contract dispute? Sloppy production? We may never know. All we do know is in a later season, Mr. Cunningham (the late Tom Bosley) declared how proud he was of his "two kids."
Henry Blake on M*A*S*H*
When the guy who played Blake, McLean Stevenson, decided to leave the show at the end of the 3rd season, his character was simply supposed to be discharged and sent home. But in one of television's most "did-that-just-happen????" scenes, it was announced (by Radar, played by Gary Burghoff), Henry's plane had been shot down. In typical M*A*S*H* form, many of the actors–including Alan Alda–didn't find out about the character's death until they were actually filming the scene.
Adriana La Cerva on The Sopranos
When Christopher's (pronounced Chris-tah-fuh's) fiancee Adriana was forced to become a turncoat by the Feds, Tony Soprano (the late James Gandolfini) had no choice but to eliminate her. In one of the most intense scenes of the series, Silvio Dante (Steven Van Zandt) tells Adriana that Christopher was rushed to the hospital (not his first time) and offers to drive her there. But after being on the road for awhile and realizing she was being driven to the middle of nowhere, Adriana begins gently sobbing…knowing the gig was up. But no good character assassination is without a conspiracy theory, and unlike many of the murders on The Sopranos,, this one wasn't on camera. On cue, more than a few fans still believe Sil let her get away.
Ned Stark on Game of Thrones
The beheading of Ned at the end of Season 1 was never supposed to happen…at least in the eyes of anyone who never read the books, anyway. Simply put, almost every other main character on shows like Thrones DO NOT get killed off. And when they do, it's usually a few seasons down the road with the actor either wants to leave the show for bigger things on the big screen (that invariably are not be out there) or because of a dispute over money/creative direction. So while the show is an ensemble, Sean Bean's Ned Stark was unquestionably the one guy fans thought was untouchable.
Right before his demise, you just kept waiting for him to be rescued, for something dramatic to occur at the last second…because everyone from Jack Bauer (24) to Carrie Mathenson (Homeland) just weren't/aren't going anywhere. Game of Thrones may have lost a great character, but it put the audience on notice from then on: Everyone is expendable, anyone can be offed at any time.
Bobby Ewing on Dallas
J.R.'s little brother was killed off for an entire season (while the #1 show was still at its peak)…until he was miraculously brought back to life by a huge contract from CBS. This was, of course, the infamous it was all a dream season that completely lost its way with Bobby (Patrick Duffy) and J.R. (the late Larry Hagman)–the perpetual battle between virtuous and hilariously vicious–no longer in play. Ironically, Duffy once recreated his dream death during a guest appearance on Family Guy (h/t Christopher Moloney via Twitter).
And while some fans were blown away by the arrogance of the show's producers to even try to sell off an entire season being simply a figment of Pam's (Victoria Princpal's) imagination, it does give hope to all deceased TV characters out there.
Including Brian Griffin…
— —
>>Follow Joe Concha on Twitter @ConchaMedia
Have a tip we should know? [email protected]