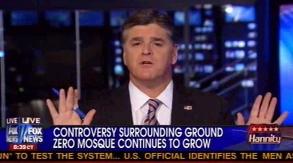 Bill O'Reilly spent his entire show Monday night talking about Glenn Beck's Restoring Honor rally. Fox & Friends talked about it. So did Megyn Kelly, and Bret Baier, and Greta Van Susteren. But Sean Hannity didn't mention it.
Huh. Isn't that interesting.
I wonder why Sean Hannity, a conservative, wouldn't mention this enormous rally important to many conservatives. He had Restoring Honor speaker Sarah Palin on for two full segments to start his show Monday night – but didn't mention the rally in D.C. last weekend.
It couldn't be because Hannity had an event Saturday as well, the last leg of his "Freedom Concert" tour in San Diego, and, needless to say, didn't get the type of mainstream attention Beck got. Here's Hannity on Twitter: "Had a great weekend on the final leg of the @FreedomAlliance concerts. Thank you all for coming out and supporting the cause!"
Or it wouldn't be because conservative pundits like Matt Lewis are using the success of the Beck rally as a call to suggest the 5pmET host might 'deserves a prime time slot' right? Because if that comes to pass, there are only so many hours in prime time on Fox News, so who would be the odd man out?
It couldn't be some professional jealousy, right? Because Sean Hannity was the only prime time host on any cable news network not to mention the rally (more on CNN/MSNBC coverage coming). So it's certainly notable. So Sean, what's the deal? Maybe he'll mention it on Twitter today…
—–
» Follow Steve Krakauer on Twitter
Have a tip we should know? tips@mediaite.com