In Touch Defends Ed Henry Affair Coverage: 2016 Election 'Makes Him Even More High Profile'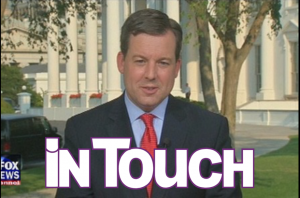 The editorial director of In Touch today defended the magazine's decision to heavily feature Fox News' Ed Henry and cover the salacious details of his 10-month affair with a Las Vegas waitress.
The question was first posed to David Perel by Erik Wemple of The Washington Post due to the fact that Henry — a former CNN reporting vet who currently works as Fox's Chief White House Correspondent — is not a pop culture celebrity or part of the magazine's usual subjects. "Why does a CVS/Wahlgreen's mag care about this guy?" asks Wemple in his newest piece for WaPo.
Perel answered by admitting that part of Ed Henry's appeal as it pertains to this story is that fact that he has been covering the Hillary Clinton campaign so publicly, and that the 2016 election is a unique American interest:
Because Ed is on Tv he is someone who is well known by our readers. And because it is election season that has made him even more high profile. While politics is not necessarily a core area of coverage for In Touch, breaking big stories that our readers are interested in and care about is what In Touch does. We had a similar reaction when we first broke the Duggar family molestation scandal and coverup, in terms of people being surprised that that was in our coverage zone. But that story was so important it led to an advertiser backlash that caused the network to pull the show from the air even though it was their number 1 revenue generator. Basically, In Touch breaks news stories from many different coverage areas. So while this does not signal a move to cover politics on a regular basis it does show that In Touch has evolved into the magazine that breaks the biggest stories across a number of realms.
The story, which appeared online Wednesday morning, was accompanied by screengrabs of text messages allegedly exchanged between the married TV vet and his mistress, Natalia Lima. Perel continued, "Our readers appear to strongly disapprove of his actions of repeated infidelity as reported in our exclusive story."
Perel further identified that no one associated with the story offered any sort of refusal or clarification on details. "I can tell u that everyone had an appropriate amount of time to respond and refute any element of the story before we published and no one disputed anything," he said to Wemple. "He chose not to respond. He then apparently told his network what was going on. I can't tell u about any discussion we may or may not have had with them but I can tell u there has been no refutation of any bit of this story which as u know is backed up with extensive documentation."
—
J.D. Durkin (@jiveDurkey) is an editorial producer and columnist at Mediaite.
[image via screengrab]
Have a tip we should know? tips@mediaite.com