Independence Day: Ezra Klein's Exit Another Nod to New Media's Personal Branding Model
Concha: Ezra Klein's Exit Another Nod to New Media's Personal Branding Model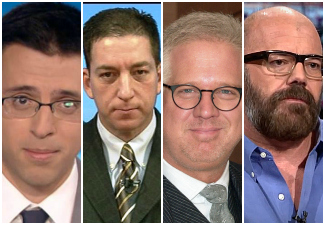 Ezra Klein is a numbers guy.
He's also one of the hardest working members of the media.
So when these numbers were inserted into the following equation, it was decided it didn't add up to those running The Washington Post:
4,000,000 page views per month + national exposure on television via MSNBC Contributor gig = more resources and investment into a relatively huge initiative proposed by Klein to the paper's new owner (Amazon's Jeff Bezos). Bezos balked at Klein's idea, which in general terms is a new independent Wonkblog-on-steroids site with a reported budget topping $10 million, according to The New York Times. The figure was reportedly seen as so outlandish that it didn't even get the courtesy of a counteroffer, reports Politico.
Given the Post's declining revenues (seven straight years and counting), the decision to let Klein go without a fight (given the money involved) is a curious one (particularly when taking in Bezos's net worth–$22 billion–into account). Four million page views is nothing to dismiss easily, but the New York Times seemed to have a similar philosophy with another numbers guy, Nate Silver. When ESPN made an offer which included a big carrot that is allowing him to build an independent site of the sports giant but still link to other web publications owned by the network and Disney (ESPN's parent), Silver bolted. When the dust settled, the Times seemed to shrug it off despite the traffic his exceedingly popular fivethirtyeight.com blog was providing the paper.
Klein, just 29 years old, joins a growing number of big-time (and exceedingly expensive to keep) journalists and pundits taking advantage of media's unshackled landscape in 2014 (See: no brick and mortar needed) to build their own enterprises: In addition to the aforementioned Silver, there's the success Glenn Beck is enjoying via TheBlaze and BlazeTV. Glenn Greenwald (formerly of The Guardian) just embarked on his new venture, First Look Media (backed by the deep pockets of eBay's founder). Neetzan Zimmerman (Gawker) will run the editorial show of a shareup (of content) called Whisper. And then there's the always-compelling Andrew Sullivan, who gets his funding directly from readers via monthly subscriber fees (34,000 subscribers and counting along with approximately $800,000 in revenue generated thus far).
The old days meant buying office space in Washington or New York (Read: expensive). Hiring a staff, acquiring a printing press and/or studio, and pouring major dollars into marketing, advertising and distribution (for starters). Creating a startup simply could not be done without serious cash, nor did any journalist or pundit have the ability to build a national brand as effectively and quickly as they are today thanks to Twitter and other social media.
In Klein's case, his new staff can simply work from home. The need for office space is gone. What about collaboration on projects and stories, you say? Online tools such as WebEx or GoToMeeting make meeting face to face (virtually) and sharing documents easy, and the cost won't break the bank. Internet speeds are often faster and more reliable at home than when shared at an office. Win-win…
The tug-of-war between young writers raised in an age of blogging and old media institutions was best illustrated on Netflix's House of Cards. At the beginning of Season 1, Zoe Barnes (played perfectly by Kate Mara) is introduced as a hungry (albeit struggling) writer looking to break a big political story. She does so by teaming up (and eventually sleeping with) Congressman Frank Underwood (the great Kevin Spacey). Television outlets start booking her a pundit, much to the dismay of her cantankerous editor at the fictional Washington Herald, who tells her to stop. The two finally come to (verbal) blows, with said editor firing her for insubordination.
No worries for Barnes, who starts blogging for Slugline (think of an embryotic version of Politico), while literally writing columns on her phone in public places (and publishes them without an editor) while promoting them via her exploding Twitter following. Zoe's exclusive pieces go viral in the same manner they did when at a cubicle at the Herald, and the TV appearances don't stop regardless of the size or gravitas of the publication.
Big paper, small blog… doesn't matter to the fictional Zoe in building her unique brand.
So does Ezra Klein — a numbers guy — have math on this side when it comes to compelling those who read his stuff at the Post to follow him to a publication that hasn't existed before?
If Andrew Sullivan or Glenn Beck are any indication, the odds are in his favor.
— —
>> Follow Joe Concha on Twitter @ConchaMedia
Have a tip we should know? tips@mediaite.com