Inside Kurt Eichenwald's Newsweek Blockbuster That Reveals The Root of Putin's Love of Trump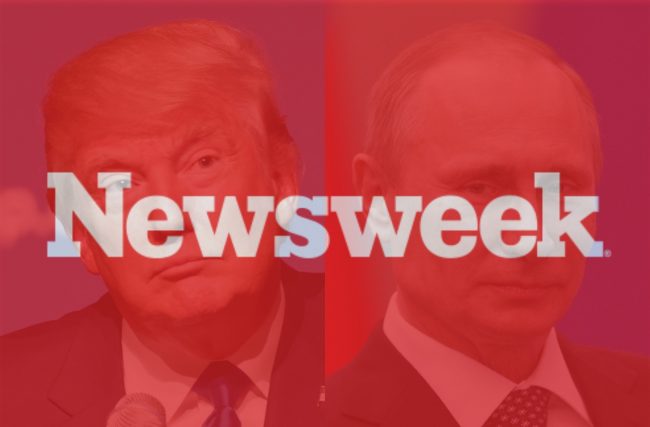 Last night, MSNBC host Rachel Maddow exclusively previewed elements of the new blockbuster story by Newsweek's Kurt Eichenwald that details the deep-running connections between Republican presidential nominee Donald Trump and Vladimir Putin's Russia. Elements of Maddow's segment — and Eichenwald's reporting — support theories we've heard tossed about before by the likes of Glenn Beck and others: that Putin's chief efforts in Russia are to badly destabilize the global community (including NATO), and help prop up the unpredictable and worrisome Trump candidacy in the process.
Eichenwald's highly-anticipated Newsweek story was released Friday morning, detailing the extent to which Trump's actions impacted Russian cyberattack efforts and their hopes of "weakening Western alliances." The piece — titled "Why Vladimir Putin's Russia Is Backing Donald Trump" — contains lots of intriguing information regarding the depths of the dynamic. Here are some of the most engaging points of Eichenwald's original reporting:
NATO partners got spooked after Trump's debate comments about Russian hacking
At the first presidential debate at Hofstra, moderator Lester Holt pressed both Trump and Hillary Clinton to identify the threat of cybersecurity and who was responsible for the debilitating attack on the DNC. Trump's response? "I don't think anybody knows it was Russia that broke into the DNC. She's saying Russia, Russia, Russia. Maybe it was. I mean, it could be Russia, but it could also be China, but it could also be lots of other people, it also could be someone sitting on their bed that weighs 400 pounds, OK?"
Eichenwald notes that although Trump was briefed by intelligence officers about Russia's efforts to interfere with the election, his public dismissal "alarmed several NATO partners because it suggests he either does not believe the information he receives in intelligence briefings, does not pay attention to it, does not understand it or is misleading the American public for unknown reasons."
Many in the global community fear that if Donald Trump is elected, he could quite frankly continue to disregard key information shared by the intelligence community. He continued his laissez faire approach at the third debate, remarking, "Yeah, I doubt it. I doubt it," when faced with the reality of Russia's involvement in the hacks. "Our country has no idea," Trump continued telling Chris Wallace, shocking our NATO partners who were certain of Russia's role. "But he blithely dismissed the conclusion of not only the United States but its allies as well, based on absolutely nothing."
Trump's attacks on the Khan family caused Russia to rethink its strategy
Donald Trump's open combative rhetoric against a Gold Star family that spoke at the Democratic National Convention caused the Kremlin to essentially assume his candidacy was done. Trump's language was viewed as so severe that Russia assumed he would be replaced as the GOP nominee. As Eichenwald writes, "the Kremlin assumed the Republican nominee was showing himself psychologically unfit to be president and would be forced by his party to withdraw from the race."
In response, Russia puts its hacking efforts on hold, "ending the distribution of documents until Trump stabilized." The hacks continued however once it became clear that Trump wasn't budging from the top of the Republican ticket.
Later in the piece, he continued, "Top Russian officials came to believe Trump would be forced to withdraw from the race because of his psychological state and apparent unsuitability for the presidency."
The connections between Trump's inner circle and Moscow run deep
By now, it's very well documented that former campaign manager Paul Manafort has a lengthy history of involvement with pro-Russian politicians in Ukraine (he told a Ukraine crowd in 2007, "I am trying to play a constructive role in developing a democracy. I am helping to build a political party"). Manafort may have received nearly $13 million from Ukrainian President Viktor Yanukovych's Party of Regions as first reported by The New York Times. Additionally, Carter Page (a former Trump advisor) is alleged to have had back-channel discussions with the Russian government as recently as this summer. Though he denies any wrongdoing, Page is under investigation by both American and European intelligence as a result.
Even retired Lieutenant General Michael Flynn, one of the GOP nominee's most vocal surrogates and a onetime VP contender, has dubious ties with Russia. Last year, Flynn attended the 10th anniversary celebration of Russia Today television (RT), sitting two seats away from Putin himself, and "despite public warnings by American intelligence that the news agency is used for Russian propaganda," Flynn attended anyway.
Kremlin propaganda has mysteriously wound up as Trump talking points
Trump and his campaign have long touted various reports that have materialized to be little more than Russian propaganda. "In one instance," writes Eichenwald, "a manipulated document was put out onto the internet anonymously by propagandists working with Russia; within hours, Trump was reciting that false information at a campaign rally."
The Trump camp has also spread around information from the Russian outlet Sputnik — identified as a "disinformation campaign" — to American journalists. Trump's spokeswoman Hope Hicks did not respond for comment.
Propping up Trump is good; destroying Clinton is better
Eichenwald writes at one point, "The Kremlin's campaign is motivated not so much to support Trump as it is to hurt the Democratic nominee." Vladimir Putin was allegedly furious when Hillary Clinton as Secretary of State slammed Russian elections in 2011 as "neither free nor fair." Enter Trump, who spoke glowingly about the Russian president, earning immediate favor.
Win or lose, Putin's done his job
The Newsweek story reveals that even if Trump loses the presidential election, the disinformation campaign was a success. Even in the likely case that Clinton wins, "her administration would be bogged down trying to heal divisions within the United States brought about by releases and misrepresentations of hacked information."
Was Trump getting… too powerful for Russia?
Eichenwald cites "buyer's remorse" by the Russian government concerning the Republican nominee once they learned that he may be so unpredictable and unstable that his victory would spell out brutal uncertainty at the highest levels of diplomacy. "Russia came to see Trump as too unpredictable and feared that, should he win, the Kremlin would not be able to rely on him or even anticipate his actions," he writes.
Our Western European allies are preparing for the worst
Although they are stunned to admit it, officials in Western Europe, according to Eichenwald, are now compelled to gather intelligence on Trump himself, "but believe they have no choice." The man's rhetoric this year has indicated to many that he perhaps would have more favorable views of Putin's Russia than our own NATO partners; "[s]hould the United States, the last remaining superpower, tilt its policies away from NATO to the benefit of Russia, the alliance between America and Western Europe could be transformed in unprecedented ways," he writes. A Trump victory next week could spell unprecedented fear in the global community with the potential to do "irreparable harm" to our longstanding alliances.
Read Kurt Eichenwald's full Newsweek report here.
—
J.D. Durkin (@jiveDurkey) is an editorial producer and columnist at Mediaite.
Have a tip we should know? tips@mediaite.com