Inspectors General Release Joint Statement to Clear Up Hillary Email Referral Flap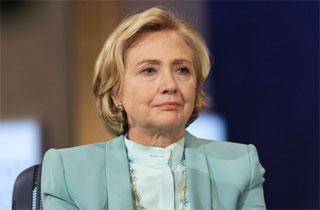 Two government inspectors general involved in the Hillary Clinton email referral flap released a joint statement this afternoon to try and explain exactly what happened.
This whole thing started off with a New York Times report saying that IGs at the State Department and the Office of the Director of National Intelligence requested that the Department of Justice open a criminal probe into Clinton's use of private emails due to classified information contained within. But then the Times edited the story after the Clinton camp complained, and then, despite the DOJ saying earlier they got a criminal referral, the DOJ later said it was a different kind of referral.
So the two aforementioned IGs released a joint statement later explaining that the referral was not criminal in nature, "it was a security referral made for counterintelligence purposes."
Here's the full statement from I. Charles McCullough, III and Steve Linick:
Yesterday the Office of the Inspector General of the Intelligence Community (IC IG) sent a congressional notification to intelligence oversight committees updating them of the IC IG support to the State Department IG [attached].

The IC IG found four emails containing classified IC-derived information in a limited sample of 40 emails of the 30,000 emails provided by former Secretary Clinton. The four emails, which have not been released through the State FOIA process, did not contain classification markings and/or dissemination controls. These emails were not retroactively classified by the State Department; rather these emails contained classified information when they were generated and, according to IC classification officials, that information remains classified today. This classified information should never have been transmitted via an unclassified personal system.

IC IG made a referral detailing the potential compromise of classified information to security officials within the Executive Branch. The main purpose of the referral was to notify security officials that classified information may exist on at least one private server and thumb drive that are not in the government's possession. An important distinction is that the IC IG did not make a criminal referral––it was a security referral made for counterintelligence purposes. The IC IG is statutorily required to refer potential compromises of national security information to the appropriate IC security officials.
[h/t Cameron Joseph]
[image via JStone/Shutterstock]
— —
Follow Josh Feldman on Twitter: @feldmaniac
Have a tip we should know? tips@mediaite.com
Josh Feldman - Senior Editor