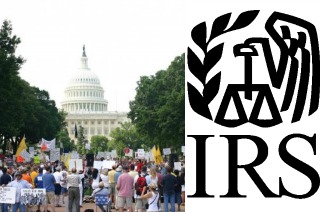 During the 2012 election campaign, some conservative groups complained that the Internal Revenue Service was applying increased scrutiny to political committees supporting conservative candidates when applying for tax-exempt status. It turns out that they were right. A spokesperson for the IRS confirmed on Friday that conservative groups were targeted by the tax collection agency for additional scrutiny during that election cycle.

Today, Lois Lerner, the head of the IRS unit which overseas tax exemption applications confirmed that organizations which included the words "tea party" or "patriot" in their applications were singled out for additional scrutiny. She described the Cincinnati-based staff who engaged in these practices as being "low level."
In 2012, the IRS provided ProPublica with a copy of an application for tax exempt status for Karl Rove's conservative political action committee, Crossroads GPS. At the time, the PAC's tax exemption application had not yet been approved. ProPublica published the details of the application. "[T]here is a clear to us that there is a strong First Amendment interest in its publication," said ProPublica's Richard Tofel.
"It has come to our attention that you are in receipt of application materials of organizations that have not been recognized by the IRS as tax-exempt," wrote the [IRS's] spokeswoman, Michelle Eldridge. She cited a law saying that publishing unauthorized returns or return information was a felony punishable by a fine of up to $5,000 and imprisonment of up to five years, or both. The IRS would not comment further on the Crossroads application.
Under federal law, some political groups that provide charitable services as part of their organization are eligible to receive tax-exempt status. They are required, however, to ensure that political activity is not their primary function.
h/t AP
> >Follow Noah Rothman (@NoahCRothman) on Twitter
Have a tip we should know? tips@mediaite.com