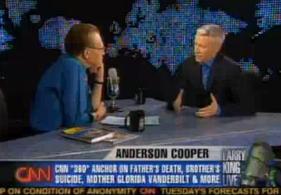 Larry King's current contract with CNN runs through next June, but his news/interview format has been a mainstay with the network for 25 years.
As another star at the network, Anderson Cooper, begins a run of "specials," could it be a chance for the 10pmET host to explore a format similar to King's?
Cindy Adams dropped a hint about "CNN adding a nightly talk show" for Cooper, and TVNewser quoted a CNN insider explaining the item as "doing a few specials on Fridays at 11pm later this spring."
So, not exactly a nightly talk show, but it could be an interesting platform for Cooper to flex his talk/news muscles. It's something we've seen from the CNN host in other arenas – whether guest hosting for Regis Philbin on Regis & Kelly, a role he fills regularly, to even lighter fare. Cooper often seems as comfortable in situations devoid of hard news as he is when he's reporting from Haiti or focusing on political issues.
It is this crossover appeal and talent that make him a great candidate for continuing the unique format King started. For years, Larry King was the king of cable news – until Fox News and Bill O'Reilly came along to take the crown. The program remains a mainstay in CNN's prime time line-up. The numbers have fallen off and Fox News and the louder format of prime time has been proven to win out in this current political climate, but it's still a type of show worthwhile to have on cable news.
Cooper provides the interview acumen and ability to move between types of news to fill this role. His critics will say the soft news portions of both 360 and his outside appearances diminish his serious correspondent assignments or serious political focus. But in this media world where hosts like Glenn Beck can transition from funny radio guy to serious TV show host to children's book author, all on the same day, no one needs to be boxed into one format anymore.
Whether these specials give Cooper a chance, an hour after 360, to explore the lighter side of news, or provide a platform for more in-depth interviews, we'll find out shortly. But it could signal an opportunity for Cooper to expand his journalistic role with the network – and eventually slide into a 'Larry King Plus'-like role.
• One thing Larry King probably won't do – swim with sharks, which Cooper does in a 60 Minutes report airing Sunday:

Watch CBS News Videos Online

—–
» Follow Steve Krakauer on Twitter
Have a tip we should know? tips@mediaite.com