Is AZ Gov Trying to Gerrymander the 9th Circuit Because They Didn't Rule His Way?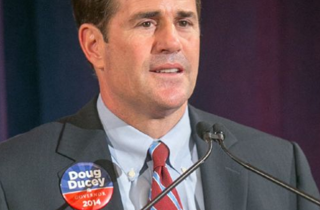 A few days ago, Arizona's Governor Doug Ducey sent a letter to Speaker of the House Paul Ryan and Majority Leader Mitch McConnell asking them to take action to "entertain appropriate legislation" that would usher in "long-overdue reform" for the Ninth Circuit Court of Appeals.
According to The Arizona Republic, there are plenty of reasons to encourage changes to the jurisdiction covered by the Ninth Circuit. There are 13,000 pending cases, which triples the amount of pending cases faced by the second busiest circuit court in the country. This is because the court covers California, Oregon, Washington, Hawaii, Alaska, Nevada, Idaho, and Montana.
Ducey's proposal is that Arizona be removed from the court's jurisdiction entirely, which is not altogether unprecedented. As he pointed out in his letter, Article III of the Constitution gives Congress the ability to restructure the courts of appeal, which they did in 1929 and 1980. He cited the 77% reversal rate of the Ninth Circuit in his letter, saying that their number of reversals tripled the number of cases sent to the Supreme Court by each of the other circuit courts. Outlets like RH Reality Check have pointed out, though, that it might just be one reversal that spurred Ducey into action.
Although he mentions that there have been "numerous calls" for these changes dating back as far as 1973, it took until 2016 for any effort to be made. Interestingly, his letter came swiftly following the Ninth Circuit's reversal of a bill he supported that would have made medical abortions harder for women in Arizona to obtain known as SB 1324.
While there are serious challenges faced by the Ninth Circuit Court of Appeals, Ducey's timing and sudden vehemence are a little less than coincidental and might reveal more about his priorities than he intended.
[image via screengrab]
For more from Lindsey, follow her on Twitter.
Have a tip we should know? tips@mediaite.com