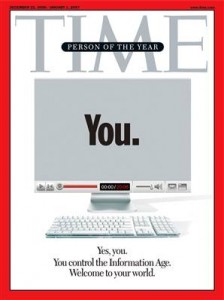 In a recent interview with Beet.TV, Josh Tyrangiel, Time.com's Managing Editor, was adamant that long-form journalism does not work online. "It's just too long," he said bluntly. As a result, 95% of Time.com stories are original to the web, according to the editor. For online writers, the challenge is being both "smart and stylish" and getting to the point, he said. Tyrangiel knows shorter stories work better because he has the data to prove it. But what if Time.com's assuredness not only leads to a self-fulfilling prophecy, but is a convoluted attempt at selling more magazines?
If long-form stories are rarely read at Time.com, a publication that built its brand on investigative work, then the business implications are clear: the magazine must employ one staff of writers and editors, while the website employs another. And readers must check out both. Selling a hard copy of the rag — full of well researched, in-depth pieces — and scoring web traffic built on quick bursts and breaking news are disparate missions at Time, but keeping them exclusive might help the bottom line.
When it comes to long-form success online, the New York Times begs to differ. Editor of the New York Times Magazine Gerald Marzorati (formerly of long form giants The New Yorker and Harper's) contends that "contrary to conventional wisdom, it's our longest pieces that attract the most online traffic." So, Time.com, maybe it's just you? And from a business standpoint, it seems like you like it that way.
If New York Times Magazine is enjoying online success with pieces frequently over 10,000 words (and ten online pages), and readers' attention spans don't seem to be the problem, it could be the quality of the work. But more likely, condescending attitudes at Time.com about their audience's willingness and ability to read — and the subsequent handling of lengthy online content — have resulted in the disappointing traffic metrics cited.
If a well reported long-form piece is good enough for publication in the magazine (whose ad revenue and pages over the first half of the year are both down around 20% from last year) then why wouldn't online readers turn out, as they have for the New York Times? Perhaps a premature verdict is to blame, with Time deciding that a long story will doubtlessly fail online, therefore giving the piece less prominent placement on its website, paying less attention to spreading the story virally and providing a shorter internet shelf life. The Magazine, meanwhile, often gives Sunday's cover story top-billing a few days early to catalyze online buzz.
The fastest way to making sure your readers don't explore longer stories is to not give them the option. Blame readers' attention-deficient habits all you want, but for struggling Time, not focusing on hard-fought magazine stories online seems like a last ditch attempt to sell paper copies of the magazine. All we are saying, Time.com, is give your readers a chance.
Check out the full interview with Tyrangiel below.
Have a tip we should know? tips@mediaite.com