It's About Time: Occupy Wall Street's 'Instant History' Book To Be Released In December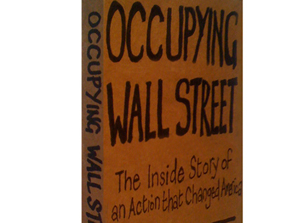 OR Books announced today that Occupying Wall Street: The Inside Story Of An Action That Changed America will be released to the public on December 17, the three-month anniversary of the beginning of the protest. The book, written by the vague "Writers for the 99%" — a consortium that OR describes as "a group of writers active in support of the occupation" — is currently available for purchase on the OR website for $15:
In these pages you will discover how the protest was devised and planned, how its daily needs of security, food, clean-up, legal advice, medical assistance and media relations are organized, and how it has won extensive support from trade unions and social movements. The decision-making process of the occupation, conducted through the now-famous "people's microphone" at general assemblies, is discussed.
The book promises to re-tell the stories that we've grown to know and hold dear over these past five weeks, including timeless classics like:
the pepper spraying of young women corralled between plastic fences by the NYPD
the march across Brooklyn Bridge when more than 700 arrests, far from slowing the momentum of the movement, just kicked it up a gear
and the now-famous victory on the night of October 14th when, only minutes before it was due to commence, an announced "clean up" the square was abandoned by a police department and mayor's office fearful of the PR disaster of battling the 3,000 supporters who had gathered overnight.
The book will also feature a map and black-and-white illustrations throughout its approximately 200 pages. There is no word yet on how else they will fill the 200 pages of a book on a protest that is about two weeks younger than the current NFL season, but that's part of the fun and mystery involved with actually buying the book.
OR Books burst onto the scene with the publishing of the best-seller Going Rouge: Sarah Palin and American Nightmare, which was released on the same day as Palin's memoir, Going Rogue. It followed up the satire with Tweets from Tahrir, Egypt's Revolution as it Unfolded in the Words of the People Who Made It. It did not have anything to do with the October 3, 1861 novel, The Civil War… So Far.
All profits from Occupying Wall Street, according to the OR Books release, will go the occupation.
Have a tip we should know? tips@mediaite.com