Exclusive: James O'Keefe Defends Tactics Used To Discredit Rutgers Professor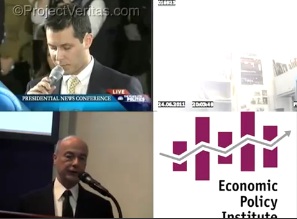 On Monday, we reported on a new investigation from James O'Keefe's Project Veritas that seeks to discredit Rutgers Professor Jeff Keefe and the think tank he does research for, The Economic Policy Institute, using surreptitious recordings with a Project Veritas "decoy."
In an exclusive interview with Mediaite, O'Keefe defended his tactics, and his decision not to publish exculpatory recordings of EPI officials refusing his operative's advances.
"To Catch A Journalist" is the latest in a series of O'Keefe projects that use hidden video cameras and contrived situations to discredit individuals and institutions with whom he disagrees. In this case, the meat of his expose´ is a surreptitiously recorded phone call with a professor named Jeff Keefe, in which the professor assures the caller that the think tank he works for will "kill" the research (hypothetically being commissioned) if the caller doesn't like the results. Later, O'Keefe associate Christian Hartsock confronts Keefe with a transcript of the call, and Keefe denies ever having said that. (Prof. Keefe did not return requests for comment for this article.)
On this point, O'Keefe appears to have the goods on the Rutgers professor, but as Sam Stein reported last week (before O'Keefe released this report), the think tank that Prof. Keefe does research for, the Economic Policy Institute, was contacted several times, by the same O'Keefe operative, and refused the same advances. Tape recordings of those conversations appear nowhere in O'Keefe's reporting. As far as I can tell, Prof. Keefe is not authorized to speak on EPI's behalf, but EPI President Lawrence Mishel certainly is. If he rebuffed O'Keefe's operative, why omit that recording?
When contacted for this story, EPI communications director Jody Franklin told Mediaite, "Project Veritas, an ultraconservative organization run by James O'Keefe, manufactured a story designed to discredit the Economic Policy Institute, the latest in a series of attacks on progressive organizations. EPI has a long, accomplished history of publishing reliable, credible economic studies. We stand behind our research."
She went on to say, of Professor Keefe, ""Professor Keefe is not an EPI employee. He does not speak for EPI or set EPI policy. He is neither part of any aspect of our decision making process, nor is he familiar with it."
"EPI would never commission research by an academic and not publish it because we had an ideological disagreement with its results," Ms. Franklin continued. "Of course, EPI does not publish everything that comes across our desks. The single overriding determinant as to whether EPI publishes a study is the quality of the work, but other factors are also important, such as the work's relevance to current policy debates and whether it is interesting and new."
In part two of our interview, O'Keefe defends his omission of those exculpatory recordings, reveals more about his process, and teases upcoming "To Catch A Journalist" features. Here's the audio of part two of our interview, followed by the transcript. Coming soon: James O'Keefe On The CNN Caper, His Pimp Costume, And Mainstream Journalism.
NEXT:Transcript Of Tommy Christopher's Interview With James O'Keefe: Part Two
Have a tip we should know? tips@mediaite.com