It's Official: Illinois Supreme Court Rules Rahm Emanuel Is On Chicago Mayoral Ballot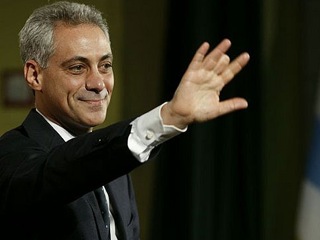 After spending a few days as the Illinois judicial system's hot potato du jour, former White House Chief of Staff Rahm Emanuel has finally, officially been allowed back on the ballot for mayor in Chicago. Emanuel's place in the mayoral race had been in dispute since he moved back to Chicago to run, with the Illinois Appellate Court having ruled that his tenure as Chief of Staff in Washington, D.C. revoked his Chicago residency.
Emanuel's (passionate, we imagine) argument to the Supreme Court on appeal apparently worked, as the Court arrived at the decision unanimously that he merited a place on the ballot. This permits Emanuel to remain on the top of the ballot, and to make the best of his current lead in the polls. While the appellate court concluded that there was no enough evidence that Emanuel had intended to live in Chicago, according to the Chicago Sun-Times, the Supreme Court found otherwise:
"This is a situation in which, not only did the candidate testify that his intent was not to abandon his Chicago residence, his acts fully support and confirm that intent. The candidate told several friends that he intended to serve as Chief of Staff for no more than 18 months or two years before returning to Chicago. The candidate has continued to own and pay property taxes on the Chicago residence while only renting in Washington, D.C.''

The leases for the Washington and Chicago homes were written to coincide with the children's school year, the justices argued. Also Emanuel kept an Illinois driver's license — not one from Washington, D.C. — registered his car to the Chicago address, voted from that address in every election from 1999 to 2010, did his banking in Chicago, and had his Chicago address printed on his personal checks.

And the court noted that Emanuel "left many personal items'' at the home, " including his bed, two televisions, a stereo system, a piano, and over 100 boxes of personal Possessions.''
Now that the odyssey to ensure his position on the ballot is over, it's time to get campaigning: the candidates have a debate conveniently scheduled for tonight, to be broadcast on their local stations.
Have a tip we should know? tips@mediaite.com