It's Tillerson: Trump Set to Nominate ExxonMobil CEO as Our Next Secretary of State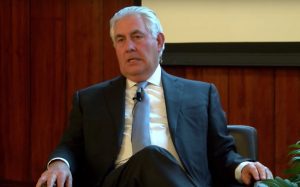 We can now add the name Rex Tillerson to the long list of Secretaries of State who have served our nation, joining the likes of Thomas Jefferson, James Madison, William H. Seward, and William Jennings Bryan.
At least, that's what the incoming administration under President-elect Donald Trump is hoping for. The transition team announced early Tuesday morning that Tillerson, the CEO of ExxonMobil, has been tapped for the role, pending a Senate confirmation that will surely be contentious.
In the press release put out shortly ago, the transition team writes of Tillerson that he is, "among the most accomplished business leaders and international dealmakers in the world." The release highlights Tillerson's work as a job creator and expansive voice in global operations.
Trump himself says of Tillerson, "Rex Tillerson's career is the embodiment of the American dream. Through hard work, dedication and smart deal making, Rex rose through the ranks to become CEO of ExxonMobil, one of the world's largest and most respected companies." The President-elect continues, "[Tillerson's] tenacity, broad experience and deep understanding of geopolitics make him an excellent choice for Secretary of State. He will promote regional stability and focus on the core national security interests of the United States. Rex knows how to manage a global enterprise, which is crucial to running a successful State Department, and his relationships with leaders all over the world are second to none. I can think of no one more prepared, and no one more dedicated, to serve as Secretary of State at this critical time in our history."
Despite the glowing review from the 45th President, Tillerson's appointment comes at a disastrously-timed moment for the transition team in light of a CIA report that indicated Russian interference with our presidential election to favor Trump over his Democratic rival Hillary Clinton, herself a former Secretary of State. Tillerson's close ties to Vladimir Putin and the Kremlin have come under extreme scrutiny in recent days; the oil executive closed a lucrative deal with the Russian state-owned oil giant Rosneft in 2011, which gave Exxon access to Russian oil reserves. For his service to the Russian Federation, Tillerson was bestowed the Order of Friendship by Putin, "one of the highest honors a foreigner may be awarded from Russia," according to RT.
Trump defended the likely appointment in an interview on Fox News Sunday, telling host Chris Wallace, "To me a great advantage is that he knows many of the players in the world and he knows them well. "He does massive deals in Russia not for himself, but for the company."
As Senators from both parties have vehemently called for vigorous investigations into the CIA assessment of Russian interference, many — like Florida Senator Marco Rubio — have called out Tillerson's ties to the Kremlin directly. He Tweeted two days ago, "Being a 'friend of Vladimir' is not an attribute I am hoping for from a #SecretaryOfState."
—
J.D. Durkin (@jivedurkey) is an editorial producer and columnist at Mediaite.
Have a tip we should know? tips@mediaite.com