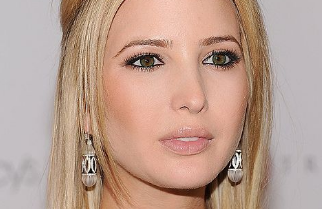 Maybe that headline was misleading. Yes, Ivanka Trump has been named in a lawsuit just like her father Donald Trump, but to say they're walking with the same footsteps is just not true. You see, the younger Trump is being sued over a pair of stiletto heels she is selling that she is accused of knocking off from a luxury brand. Her footsteps are much more literal — and labored — here.
The presidential candidate has been sued plenty of times, so he should be able to advise her as the company, Aquazzura, comes after her for supposedly stealing the design of their popular "Wild Thing" shoe, which retails for $785. Hers, called "Hettie," sells for $145.
Here, see if you can guess which is which:
HAVE YOUR SAY: Is Aquazzura right to pursue Ivanka Trump for copyright infringement? https://t.co/lhl6SF18mG pic.twitter.com/Dug5ZzHJu5

— VOGUE.CO.UK (@BritishVogue) June 23, 2016
That's hers on the left and the company's on the right.
Her fashion brand has been successful for a very long time, of course (and even brought Hope Hicks into the family fold back in her modeling days!) but this is a mistake some have claimed she's made in the past, too. CBS News explains it like this:
It's not the first time that Ivanka Trump has landed in hot water over her fashion designs, with Mystique Footwear alleging in a 2012 lawsuit that she had ripped off two of its sandal designs. While fashion designs aren't currently protected by the U.S. Copyright Act, designers can protect some aspects, such as unique graphics or prints.
The company wants damages and an accounting of profits from the alleged knockoff. Right now, they're controlling the narrative, as the younger Trump has yet to respond.
This is a very wild thing, indeed.
[image via Rich Girard]
For more from Lindsey, go to Twitter or Facebook.
Have a tip we should know? tips@mediaite.com