Ivanka Trump Should've Known Not to Publish Advice on 'How to Make It as an Unpaid Intern'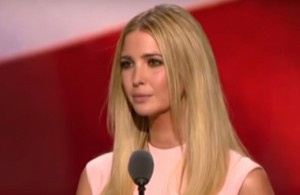 Earlier this month, Ivanka Trump tweeted a link to her blog. Well, she does it multiple times a day, but what makes the tweet from earlier this month relevant is that we covered it, showing you how people were shocked to find that she could still tweet about toothpaste while her father was running a controversial campaign to secure the presidency. It seemed like the anger was sort of misplaced. Tweeting links to her blog is what keeps Trump's business alive. Why should she stop ruling over her sizable personal empire just because of her father's hobbies?
Last night's tweeted link is less excusable. This one caused some anger that actually made sense. Tooth whitening it was not. Look:
How to make it work as an unpaid intern: https://t.co/pwMIYWh4kw #nomoneynoproblems #interntips #internships pic.twitter.com/BRoWuO6bq7

— Ivanka Trump (@IvankaTrump) August 18, 2016
Unpaid internships are becoming more and more popular. They're also becoming more and more despised and controversial. Think about it: These internships look great on post-grad job applications, but only kids with the resources to not work for an entire semester or more can do them. They are marketed to college students as a fact of life, something kids should be grateful for because maybe — just maybe — they'll network with someone who will help them get a real job eventually, but unpaid internships preclude low-income kids — often students of color — from obtaining that edge. Do not overlook that Trump used a darker-skinned emoji character in the photo assigned to her post.
Further, the idea that any student should work without getting money is outrageous to many. If not being able to afford groceries is revered by employers as a sign of good work ethic, have we considered that it might be time for a cultural overhaul? Some have! Condé Nast stopped their internship program altogether when they were sued for paying interns below minimum wage. Charlie Rose, Inc., too, was sued, ending up paying out $250,000 to the interns who banded together in a class action. (This writer took on a demanding unpaid internship during college. Not coincidentally, this writer developed a habit of showing up to pizza parties thrown by various clubs at school, regardless of club affiliation or lack thereof. A person can survive for a day on plastic-wrapped pizza tucked away in a backpack and eaten at intervals, but whether they should have to is still apparently up for debate.)
Now, it should be noted that the Trump family has been known to pay interns. Yes, they have! However, they have also been known to auction those paid internships off at a starting price of $40,000, so their understanding of what the average college kid can afford to do to get ahead might be skewed. Also, note that the post Trump linked to was written by a woman who identifies herself as an unpaid intern. Certainly, Ivanka Trump hashtagging #nomoneynoproblems on her tweet only adds insult to this injury. "No money, no problems," from a woman grew up having a "children's suite" instead of a bedroom at her father's expansive vacation home. That might have something to do with why people reacted to her advice so negatively:
@malikazwanya @IvankaTrump @blackvoices @DonCheadle @TheRoot problematic? …it's a radioactive hurricane of arrogant ignorance.

— wheatus (@wheatus) August 19, 2016
Breaking: Ivanka ensl — er, employs *two* unpaid interns named Mackenzie #millennials https://t.co/leg7YTBeKW pic.twitter.com/Aam4IN5W44

— Daniel Marans (@danielmarans) August 19, 2016
@IvankaTrump U have zero credibility on this topic.

— Lisa (@ladykayaker) August 18, 2016
What do Ivanka Trump's interns do? I sure hope they're not doing tasks that paid employees would otherwise perform. https://t.co/BKVms1cQsQ

— Ms. (((Rosenberg))) (@Miz_Rosenberg) August 19, 2016
.@IvankaTrump pic.twitter.com/DP9QxWgHjd

— Colin (@csmith03) August 18, 2016
Thanks for the tips, Ivanka! Now a tip for you: PAY YOUR INTERNS. YOU CAN AFFORD TO. https://t.co/4Xu60H82kC

— Laura Z (@ZwigZag) August 19, 2016
.@IvankaTrump is this a joke? Is all of this some sort of Kaufman-esque performance art piece?

— Chris Bea (@CJosephBea) August 18, 2016
Is this real life? https://t.co/7hCS0rt4iQ

— Matthew Yglesias (@mattyglesias) August 19, 2016
If anything, the piece written by Trump's intern and pushed out on the mogul's social media will shed light on how huge companies justify not paying college kids who are performing work that non-students would be getting money for. In the same way that anti-abortion and -contraception advocates say, "Okay, so don't have sex," this piece said, "Okay, so save up when you're not interning and don't go out with your friends." These solutions are not one-size-fits all, but they can be presented that way, which proponents see as enough.
Of course, the most ironic part of all of this is how resoundingly Trump was applauded when she focused her Republican National Convention speech on equal pay.
To review:
[Donald Trump] will fight for equal pay, equal work, and I will fight for this too, right alongside of him.

–Ivanka Trump, July 21, 2016
[Here's] how to make it work as an unpaid intern.

–Ivanka Trump, August 18, 2016
UPDATE — 10:24 p.m. EST:
Mediaite received the following statement from the Chief Brand Officer at Ivanka Trump:
We are passionate about the personal, educational and career growth of our interns.  We strive to create a fulfilling learning opportunity tailored to the unique interests and career goals of each intern. It is our goal that at the end of the program, our interns leave with experiences that will help guide them into choosing a fulfilling career path.
The statement is included here in full and did not include any mention of the lack of monetary payment for interns.
[image via screengrab]
This is an opinion piece. The views expressed in this article are those of just the author.