Tapper and Hannity Bicker Over FNC Host's Pulled Buckley Media Excellence Award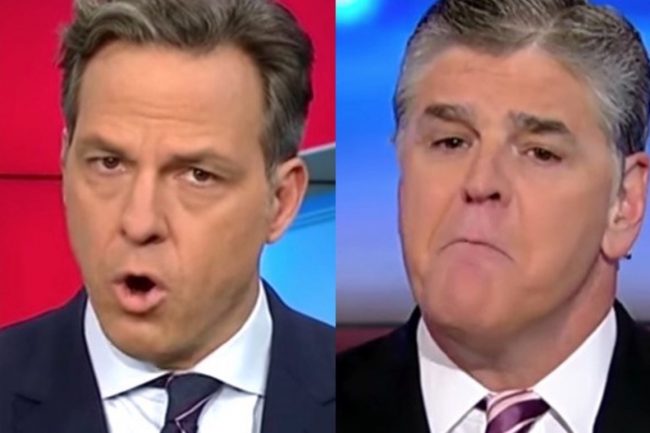 CNN's Jake Tapper reports that Fox's Sean Hannity won't actually receive the William F. Buckley Award for Media Excellence later this year.
Hannity was expected to attend a gala held by the Media Research Center, where he would receive the award named after the founder of National Review. However, sources have told CNN that Buckley's son Christopher contacted the MRC and voiced his disapproval with their decision to give the award to Hannity.
Buckley was reportedly upset because of Hannity's penchant for spreading unfounded conspiracy theories, and for attacking traditional conservatives who criticize President Trump. Other conservatives have expressed similar concerns about the MRC's decision to give Hannity the award.
As it were, Hannity's name has been removed from the gala's website, and the Fox host will no longer receive the award. Tapper's report also included a strange account regarding circumstances of the award being pulled:
Sources tell CNN that the MRC leadership discussed ways to allow Hannity to save face by acting as if a scheduling conflict would prevent him from accepting the award.

"It's my understanding there was a scheduling conflict," Ryan Moy, a spokesman for the MRC, told CNN.

A source familiar with the situation tells CNN that Christopher Buckley said of the concocted scheduling excuse: "perhaps Mr. Hannity has been offered the Ronald Reagan Great Communicator Award on the same evening and had decided to leverage upwards."
Hannity has taken notice of Tapper's piece, and here's how he responded on Twitter:
Hey Fake News Jake, I was offered an award, I was unable to attend, and I respectfully turned it down. https://t.co/z69QXiW7AZ

— Sean Hannity (@seanhannity) July 21, 2017
If @NRO "Never Trumpers" or WFB's son were upset about me receiving the award, they never told me. Now I'm really glad I said "No thanks" https://t.co/33BFWgnlEj

— Sean Hannity (@seanhannity) July 21, 2017
Fact; "Awards" are BS ways to raise $. The only "Award" I care about is serving my audience, the support of my audience, and saving the USA https://t.co/YcYJTeSUto

— Sean Hannity (@seanhannity) July 21, 2017
Chris Buckley (NO WFB) needs to speak out about how @NRO has readers pay for free cruise "vacations". Thank God for Conservative Review.

— Sean Hannity (@seanhannity) July 21, 2017
And here's how Tapper reacted:
1) deny accurate report; attack journalist
2) attack folks who protested his getting the award
3) attack all awards https://t.co/H096DQrHkm

— Jake Tapper (@jaketapper) July 21, 2017
UPDATE – 11:00 p.m. EST: The spat isn't over yet.
A) You are a liberal hack and not a journalist. B) @NRO is "never trump" like you. C) Chris Buckley never called me. D) I declined-conflict https://t.co/HbURUJJXsN

— Sean Hannity (@seanhannity) July 21, 2017
[Image via screengrab]
— —
>> Follow Ken Meyer (@KenMeyer91) on Twitter
Have a tip we should know? tips@mediaite.com