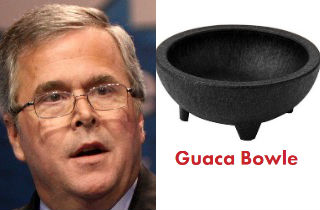 If New Jersey Governor Chris Christie's boastful bits about his contraceptive-heavy sex life weren't enough, now former Florida Governor Jeb Bush wants to intimately invite you into his kitchen with a $75 guacamole bowl.
Dubbed the "Guaca Bowle," the Jeb! 2016 campaign website's store introduces it, saying: "Jeb and Columba love whipping up guacamole on Sunday Funday. Now, you can get in on the act with this 'Guaca Bowle.' Jeb's secret guacamole recipe not included…yet." Columba Bush, of course, is Bush's wife of 41 years.
As Eater points out, one of the more "striking" things about the "Guaca Bowle" is the campaign's "brazenness in renaming a molcajete." They aren't wrong, as renaming a traditional cooking instrument, slapping a $75 price tag on it, and selling it sans "Jeb's secret guacamole recipe" is a really bold move.
Yet even more striking is the text's innuendo-filled allusion to the Bush's "Sunday Funday." Freudian slips aside, reading about "Jeb and Columba love whipping up guacamole" doesn't necessary sound like the best way to spend $75. (Besides, the therapy can be expensive.)
Twitter agrees:
Worst part of the Jeb! merchandise guacamole bowl is the description: "Jeb and Columba love whipping up guacamole on Sunday Funday…"

— Ann Coulter (@AnnCoulter) August 5, 2015
JEB BUSH: After the success of my $75 guacamole bowl, I'd like to introduce the official Jeb Bush sombrero available on my website for $800. — Dumb Idiot Riley Fox (@riley_fox) August 5, 2015
You could get a Hillary Clinton throw pillow, 2 coozies and 20 temporary tattoos for the price of the Jeb Bush guacamole bowl.

— Jason Noble (@jasonnobleDMR) August 5, 2015
How can the Jeb campaign expect us to wait three entire weeks for this $75 guacamole bowl http://t.co/4H5D4xROXL pic.twitter.com/28IQdq8YJs — Drew Harwell (@drewharwell) August 5, 2015
*jeb speech writer furiously scribbles "America is not just a melting pot. It is a guacamole bowl."

— Josh Petri (@joshpetri) August 5, 2015
If Jeb expects us to pay $75 and then get all of our guacamole ingredients from Whole Foods, I guess that's our meal for the week. — ¡Gabe Ortíz! (@TUSK81) August 5, 2015
The Jeb! Guacamole Bowl will automatically explode if you attempt to add peas. http://t.co/ZSxQoDrmcI pic.twitter.com/jSioeyPnC9

— jimgeraghty (@jimgeraghty) August 5, 2015
[h/t Eater, Jeb! 2016]
[Image via Gage Skidmore  (Flickr)/Jeb! 2016]
— —
>> Follow Andrew Husband (@AndrewHusband) on Twitter
Have a tip we should know? [email protected]