Jeb: Confederate Flag Not Controversial for Confederacy, But What it 'Began to Represent'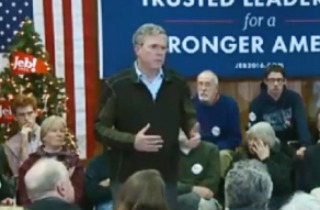 Jeb Bush held a town hall discussion yesterday in New Hampshire, where he ended up fielding a question about whether it was necessary for the Confederate flag to be purged from American society as it has been in recent months.
"Anybody killing any other entity because of one basis or not is horrible," the questioner asked, "but does that necessarily require, I guess, removing all these Confederate fixtures?"
The flag has long been associated with connotations of southern heritage and white supremacy, the latter of which saw renewed national scrutiny ever since the murder of nine black churchgoers in Charleston this year. Bush answered the man's question by pointing to the divisiveness factor and how it has existed for the image ever since the Civil War.
"The problem with the Confederate flag isn't the Confederacy, the problem with the Confederate flag is what it began to represent later," Bush said. "That's what we have to avoid to heal those wounds."
While Bush said the debate on the image should be "a state-by-state decision," he pointed to how he removed the flag from the state capitol as governor of Florida, and decided that museums were the best place to reflect on that aspect of history. The audience member pushed back by saying "I don't even think it shows any sign of racism," but Bush continued to defend his decision.
"I'm not sure if you were a civil rights worker in the 1960s trying to fight for equal rights for African Americans that they would necessary agree with you," Bush said. "And that's the point. It isn't the 19th century issue, it's the 20th century issue."
Watch above, via ABC
[h/t TPM]
[image via screengrab]
Have a tip we should know? tips@mediaite.com