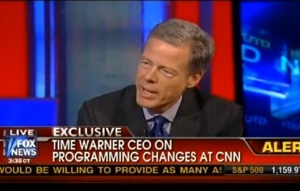 There may be no greater friend to the current plight of American CEOs than Fox News host Neil Cavuto. His show is a welcome, safe and friendly environment for titans of many an industry to discuss the economy, future political plans and their own businesses. So it's not terribly surprising to see Time-Warner CEO Jeff Bewkes show up on Fox News. What was rather surprising was the frank and candid way in which he discussed the recent managerial and programming changes at CNN, as well as the current cable news landscape.
Say what you want about Mr. Bewkes, but he is straight outta central casting when it comes to one of the most powerful media leaders in all the land. Cavuto did not demure in going straight for the current transformational time that CNN is currently enduring, and Bewkes respected the questions with honest, though surface appraisals of the newly launched Parker Spitzer, as well as CNN's direction under newly named Ken Jautz.
Writing for TV Newser, Alex Weprin summed up an exchange regarding the depth of CNN's balanced coverage:
Cavuto: What happened with head of CNN/US? [Jon Klein] did you recommend he be fired?

Bewkes: Jon did a very good job and a lot of what Jon did was done with the support and agreement of Jim [Walton] and me and I think we got to the point where we need to make a change and that is why we made this structural change… I don't think it surprised him.

Cavuto: You were speaking to the London Telegraph not long ago, but when you talked about CNN, you said that it needs much deeper balanced coverage of the big issues to compete. What did you mean by that?

Bewkes: that is something that Fox might think about as well, which is a little more breadth of spectrum in terms of the issues that you cover. You may not want to do that but that is what we are trying to do at CNN. We think, by the way, there is plenty of room for all of us. I think CNN can continue to deepen the coverage that it is bringing to the issues, and we are very strong on breaking news, whether it is war, big events in the world, and elections where we had our high ratings with the elections a couple of years ago.

Cavuto: When you talked about balanced coverage did you say it leaned left? nowhere? or what?

Bewkes: We need to cover all sides of the issues. We have to get more in-depth and all of us, everyone in TV news and I am sure you have thought of this, there is a real challenge to keep what you are saying on TV–including what we are saying right now–keep it interesting, keep the audience from going to sleep and I hope they are not snoring as we talk and get into the issues. and besides the depth of the issue get all sides of the issue.
Have a tip we should know? tips@mediaite.com