Jeff Flake's Speech Ripped Apart on Twitter: 'Spare Me the Profiles in Courage'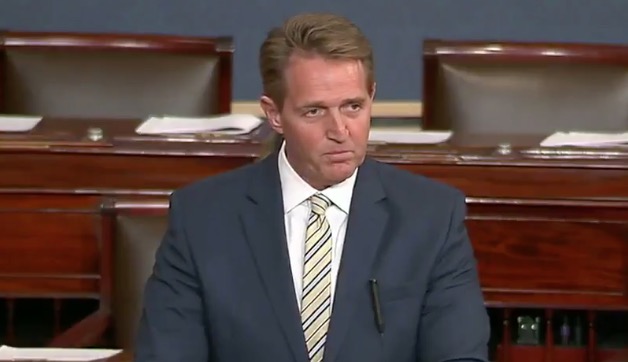 Jeff Flake got a cold online reception on Wednesday following his speech against President Trump on the Senate floor.
Trump's most ardent critics are likely to appreciate Flake's speech since he blasted the president for his slams against the political press, his penchant for lying, and for leading the country in a dark direction. However, there's two sides to every coin, and Flake's speech has invited plenty of criticisms around the Internet.
Some people bashed Flake because they don't think he does enough to politically punish or act against Trump, even if he does criticize the president:
Spare me the profiles in courage attempts Jeff Flake. You know how to give a speech, but you also know how to be silently complicit in passing the lies of the Trump tax plan, etc.

— Amy Siskind (@Amy_Siskind) January 17, 2018
Can I go back to attacking Jeff Flake for being a complicit traitor again yet? Or too soon? I'll give it another 5 minutes.

— Scott Dworkin (@funder) January 17, 2018
Before you get all misty eyed about @JeffFlake and his "scathing" Trump speech, remember that he has voted 90 percent with the president, and his rare opposition includes being on the wrong side of disaster aid to Puerto Rico. Jeff Flake is no hero. https://t.co/yj144te1eb

— Joy Reid (@JoyAnnReid) January 17, 2018
Can Senator Jeff Flake do more than say words, though?

— Melissa McEwan (@Shakestweetz) January 17, 2018
"Hi, I'm Jeff Flake. I'm really worried about our Stalinist President, which is why I voted less than 24 hours ago to increase his domestic spying powers and prevent any safeguards or checks on how Stalin can use those powers. I'm available for cable TV interviews and praise!" https://t.co/occJV9oIfi

— Glenn Greenwald (@ggreenwald) January 17, 2018
Others were not so impressed that Flake went so far as to compare Trump to Joseph Stalin:
Right, because real dictators and authoritarians weren't inspired and brutal toward the press before Trump was elected, or something https://t.co/myLf46iwSc

— Katie Pavlich (@KatiePavlich) January 17, 2018
The mullah were all sunshine and happiness toward the press before Trump. https://t.co/rowLA12Hsu

— Ben Shapiro (@benshapiro) January 17, 2018
.@JeffFlake's appalling comparison of @realDonaldTrump to Soviet dictator Stalin on floor of the Senate today is an embarrassment to AZ. I call on all candidates seeking to replace him to join me in condemning it. @RealSheriffJoe @MarthaMcSally @kyrstensinema @deedra2018 pic.twitter.com/IDH3cCY7Ex

— Dr. Kelli Ward (@kelliwardaz) January 17, 2018
Sen. Flake, turn on the news. It's wall-to-wall with biased coverage against @POTUS. He has every right to push back. Comparing the leader of the free world to murderous dictators is absurd. You've gone too far.

— Ronna McDaniel (@GOPChairwoman) January 17, 2018
And then, there were the opinions from the MAGAverse:
Does Senator Flake think he is helping…
A) America
B) The GOP
C) His political future
…with this divisive speech? More RINO facing extinction. @realDonaldTrump #maga

— Eric Bolling (@ericbolling) January 17, 2018
.@JeffFlake is a man whose entire career at this point seems to be working overtime to curry favor with the national press corps that despises the president.

— Brent Bozell (@BrentBozell) January 17, 2018
Jeff Flake has more farewell tours than the Rolling Stones

— Jack Posobiec ?? (@JackPosobiec) January 17, 2018
MSM: Your audition is going splendidly, Jeff Flake! pic.twitter.com/p4Zn5k8oDD

— ForAmerica (@ForAmerica) January 17, 2018
The same dishonest mainstream media that defended Barack Obama for 8 years is now celebrating Jeff Flake.

That should tell you all you need to know about Jeff Flake.

— Joe Walsh (@WalshFreedom) January 17, 2018
Fake Senator Flake wasted time today talking ignorantly about our President, yet he must think that we the American people don't see how ignorant he is for folding like paper and cracking like a nut by going along with the MSM narrative instead of working with the @POTUS pic.twitter.com/i49yUSIHhi

— Diamond and Silk® (@DiamondandSilk) January 17, 2018
[Image via screengrab]
— —
>> Follow Ken Meyer (@KenMeyer91) on Twitter
Have a tip we should know? tips@mediaite.com