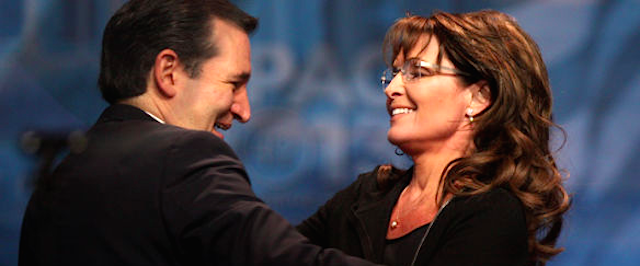 Last June, CNN's senior legal analyst Jeffrey Toobin profiled Ted Cruz for The New Yorker under the headline "The Absolutist." Now that Cruz has made his 2016 presidential campaign official, Toobin discussed the senator/candidate at length with Fresh Air's Terry Gross on Wednesday's show.
Towards the end of their conversation, Toobin discussed what it was like to spend time with Cruz last year for a series of interviews. "Well, first of all, he's just a very smart guy," Toobin said, calling the former Supreme Court clerk a "law nerd" at heart. Toobin also called Cruz a "very polished speaker," noting, "This is someone who is an extremely good political communicator. Now, obviously, you have to be receptive to his message which is extremely conservative."
Toobin even defended Cruz from those — like Morning Joe's Donny Deutsch — who have equated Cruz with someone like Sarah Palin.
"One of the things that I find frankly offensive when I hear discussions of Ted Cruz — they say, oh, he's just Sarah Palin," Toobin said. "You know, he could not be farther from Sarah Palin. This is someone who has a completely thought-out political philosophy. And you can agree with it or disagree with it, but it holds together."
But the interview wasn't all praise for the first official 2016 GOP candidate. At the same time, Toobin pointed out how "unpopular" Cruz has become in his own party, as evidenced just this week by Rep. Peter King (R-NY) suggesting he might jump off a bridge if Cruz becomes the nominee.
Earlier, Toobin criticized Cruz for suggesting the abolition of the IRS. "That strikes me as a false note in what otherwise I think is a fairly comprehensive and comprehensible worldview on the part of Cruz," he said. "You know, when I wrote about him in The New Yorker, he was not quite in full presidential campaign mode. And if I can speak simply, he wasn't saying dumb things like abolish the IRS."
Listen to audio below, via NPR:
And you can hear the full interview at npr.org.
[Photo via Gage Skidmore]
— —
>> Follow Matt Wilstein (@TheMattWilstein) on Twitter
Have a tip we should know? tips@mediaite.com