Jeopardy! Champ Under Fire for Daring to Have a Brain and Strategy
Feldman: Jeopardy! Champ Under Fire for Daring to Have a Brain and Strategy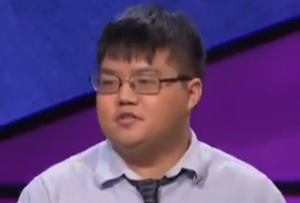 At first, I thought the most ridiculous controversy of the day was the big Seinfeld diversity fracas, but I have to take it back. The single dumbest controversy of this day, February the Fourth in the year 2014, is that people are mad at someone for daring to use his brain on a quiz show. Yes, Arthur Chu has turned into an overnight celebrity and has received a lot of flak because he had the audacity to go on a quiz show with a strategy planned out beforehand.
I don't even… just… sigh.
What exactly did Chu do to warrant outrage for doing well on Jeopardy!? Well, believe it or not, he actually studied past games online and built a strategy based on it.
"I can understand it's less pleasant to watch," Chu told ABCNews.com of his tactics that utilize "game theory" economics, "but the producers weren't paying me to make the show pleasant to watch. If you were playing for fun, you could talk about poor sportsmanship, but within the rules, it's about winning. If you don't like it, change the rules."

"Who is this dude that ruins the organization of the #Jeopardy board by hunting down the Daily Doubles? You give me a headache," one Jeopardy fan tweeted about Chu on Thursday.

Another viewer tweeted, "This is the face of a Jeopardy villain. Can anyone stop #arthurchu [sic]".
He has two ways of boosting his odds of success: searching for the Daily Doubles and eliminating them from the board, even if he knows he's not going to guess it right, just to make sure his opponents can't get ahead of him; and being careful when he bets on the Final Jeopardy, so for example, he takes the chance that he will tie with the second place winner.
Gasp! Someone actually going on a game show to win? What horror!
There are even people complaining that Chu is ruining the viewer experience because he's jumping around to different categories. Why? The viewer experience of watching Jeopardy! boils down to one thing: shouting out the answers before the contestants do to prove you're so damn smart.
Chu joined CNN's Jake Tapper on Tuesday to reveal his secret, unorthodox, unconventional methods: "The very first thing I did when I got the call to be on Jeopardy! was I sat down in front of my computer and Googled 'Jeopardy strategy.'"
Fiend!
Watch the video below, via CNN:
[photo via screengrab]
— —
Follow Josh Feldman on Twitter: @feldmaniac
Have a tip we should know? [email protected]
Josh Feldman - Senior Editor