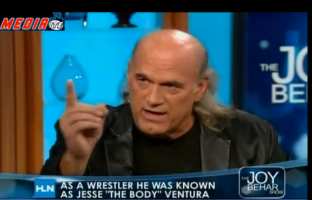 Jesse Ventura's promotional blitz for his new truTV show Conspiracy Theory has been a strange but entertaining mix of made-for-soundbite quotes, stabs at his former employers, and earnest political commentary. In his appearance on last night's Joy Behar Show, he touched a nerve when he bluntly asked if President Obama "really run[s] the country" given his escalating commitments in Afghanistan. He also stormed out of The Opie and Anthony Show after being heckled by comedian (?) Jim Norton over his antiwar stance.
From the Joy Behar Show:
Ventura: We have military guys that are going on their sixth, seventh, and eighth tour.

Behar: I know, it's terrible.

Ventura: Isn't it about time we relieve them of their duty? They've done it. The only way you do that, Joy, is with a draft.

Behar: He also says that they're only going to be there for eighteen months. I mean, you barely have time to learn what you're doing in eighteen months, right?

Ventura: You know what it tells me when I look at all this: Does he really run the country? How can he go adverse to everything that he talked about in the campaign now? Who's really calling the shots, maybe? I don't know.

Behar: Well, that was true, certainly, in the Bush Administration. I mean, they got us into this mess, and now he's trying to dig us out. And nobody's really giving him credit for anything he does!

Ventura: Bring 'em home.
Though Behar is a self-described liberal, it's telling that Ventura's talk of drafts got a nonresponse, and that Ventura's slam on Obama got jiujitsued into a slam on Bush. Ventura is turning the noisy cannons of a 2003-era liberalism on Obama, cannons that had previously been trained on Bush and have been quiet or marginalized for a while. It might hurt his cause a little that he, well, did so while he was promoting a TV show on conspiracy theories. But with disapproval of Obama's handling of the war in Afghanistan hitting record levels, Ventura's stance may not seem so marginal further down the road.
Also on Ventura's promo tour: things got testy on The Opie and Anthony Show, when Ventura seemingly came close to smacking around comedian Jim Norton over the war and stormed off the set. (contains lots of profanity)
Their most civil exchange:
Norton: "You said the F-word! And you're the governor!"
Ventura: "I'm only talking your language so you'll understand me."
Too good not to include: Ventura on why he'd want Tyra Banks to be his TV host tag team partner. "It's self-explanatory." [Joy Behar Show]
Have a tip we should know? tips@mediaite.com