Jessica Ghawi (Jessica Redfield), Theater Shooting Victim, Wrote About Narrowly Missing Another Shooting Last Month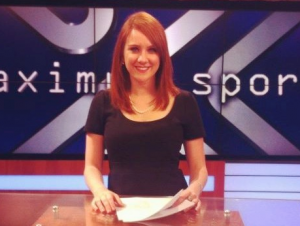 Jessica Ghawi (she went by Jessica Redfield on Twitter) was among the 12 fatalities reported after the shooting at a movie theater in Aurora, Colo. An sports blogger based in Denver, Redfield's last post on her blog was a chilling account of how she narrowly evaded a shooting at a mall in Toronto less than two months ago.
Earlier this morning, her brother, Jordan Ghawi, wrote about the shooting on his blog, mentioning "an hysterical, and almost unintelligible, phone call from my mother stating that my sister, Jessica Ghawi, had been shot." In later updates, he said he was flying to Denver, and that his sister had been with a mutual friend who suffered non-life threatening injuries.
Peter Burns, a Fox Sports radio host, tweeted that Ghawi had gone to Denver to pursue a career in sportscasting:
Devastated. Lost a very close friend in the shooting last night. @JessicaRedfield came to Denver to pursue sports career. I'm shaking

— Peter Burns (@PeterBurnsRadio) July 20, 2012
.@JessicaRedfield loved it here. Such passion for sports, was working hard on raising hockey gear for families that lost gear in wildfire.

— Peter Burns (@PeterBurnsRadio) July 20, 2012
Just in early June, Ghawi, on her blog, recounted bearing witness to a shooting at Eaton Center mall in Toronto. An excerpt from her post:
I can't get this odd feeling out of my chest. This empty, almost sickening feeling won't go away. I noticed this feeling when I was in the Eaton Center in Toronto just seconds before someone opened fire in the food court. An odd feeling which led me to go outside and unknowingly out of harm's way. It's hard for me to wrap my mind around how a weird feeling saved me from being in the middle of a deadly shooting.

What started off as a trip to the mall to get sushi and shop, ended up as a day that has forever changed my life. I was on a mission to eat sushi that day, and when I'm on a mission, nothing will deter me. When I arrived at the Eaton Center mall, I walked down to the food court and spotted a sushi restaurant. Instead of walking in, sitting down and enjoying sushi, I changed my mind, which is very unlike me, and decided that a greasy burger and poutine would do the trick. I rushed through my dinner. I found out after seeing a map of the scene, that minutes later a man was standing in the same spot I just ate at and opened fire in the food court full of people. Had I had sushi, I would've been in the same place where one of the victims was found.
She went on to articulate that she was shown how "fragile life was" that day — and that it served as a reminder "that every moment we have to live our life is a blessing." The conclusion of Ghawi's post is especially chilling and saddening, in the wake of today's tragic shooting:
I feel like I am overreacting about what I experienced. But I can't help but be thankful for whatever caused me to make the choices that I made that day. My mind keeps replaying what I saw over in my head. I hope the victims make a full recovery. I wish I could shake this odd feeling from my chest. The feeling that's reminding me how blessed I am. The same feeling that made me leave the Eaton Center. The feeling that may have potentially saved my life.
Ghawi's last tweet was about going to the midnight showing of the movie:
Of course we're seeing Dark Knight.Redheaded Texan spitfire, people should never argue with me.Maybe I should get in on those NHL talks…

— Jessica Redfield (@JessicaRedfield) July 20, 2012
Have a tip we should know? tips@mediaite.com