Jewish Newspaper Bans Trump Coverage For 24 Hours in Protest of 'Attack on Journalists'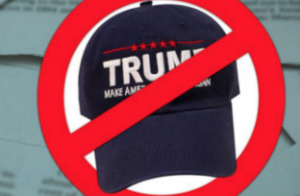 A media outlet is finally taking a stand.
Donald Trump's termination of the Washington Post's campaign press credentials is the latest sign that his relationship with the media is complicated to say the least. As such, one news organization decided to explore the question of what might happen to Trump if press outlets aren't there to build him up with coverage.
The Forward is a Jewish-Yiddish publication based in New York, and they have a particular focus on Jewish culture in America. In an opinion piece they released today, they announced that they won't publish any Trump-related content for 24 hours starting tomorrow at 5 A.M.
"The attack on journalists, and journalism, that we are witnessing today is of a more significant and far more dangerous order of magnitude than anything I've seen over decades in this business. And whereas usually it's best for a journalist to just grow a thick skin, a supple spine and the ability to ignore the crazies, what we're witnessing in the age of Donald Trump calls for a bolder response."
Writer Jane Eisner explored how Trump's antics have seemingly encouraged numerous instances of hostility towards reporters, some of which have been charged with anti–semitism. The article said they were taking the moratorium in solidarity with the Anti-Defamation League, and that they hope it will be a "symbolic" step to bring an end to online harassment.
"Our Trumpatorium is a modest attempt to restore balance and maintain journalistic perspective, to lower the temperature a notch, to pause and reflect, to adjust our own behaviors. If you are part of the vast majority of Twitter users who aren't among the trolls and the haters, join us. Let's change the discourse for a day. And just maybe, more will follow."
[Image via screengrab]
— —
>> Follow Ken Meyer (@KenMeyer91) on Twitter
Have a tip we should know? tips@mediaite.com