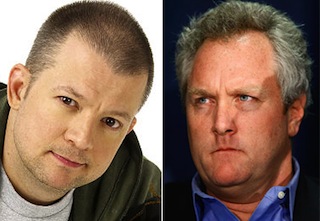 Since the fully frontal nude picture of Rep. Anthony Weiner was released on The Opie and Anthony Show seemingly against Andrew Breitbart's wishes, we've heard from Breitbart and the eponymous Opie and Anthony about what went down. But what about the other guy in the room? Comedian Jim Norton has shared his side of the story as well as discussed some of the other news stories of the day in an entertaining interview this morning with 77 WABC host Bernie McGuirk.
Norton's version of events doesn't differ too much from that of the other three except for one-upping Gregg "Opie" Hughes description of Breitbart as not being "too happy" with them by saying saying the conservative provocateur was "furious" over the shock jocks releasing the photo. Norton said that Breitbart had been very clear that he didn't want that to happen and had told him that night that the release made him look like a "liar." However, Norton and McGuirk both agreed that there really was no other way this could have gone down:
"[Opie] couldn't help himself and neither could Anthony. They just saw that, 'Wow, this could help the show' and it was like a panic moment and they just did it.

…

It's hard not to. I mean, Breitbart has to realize that the people he's normally around probably get exclusives. Opie and Anthony Show, we don't get a lot of exclusives and I think that's why they just went bananas. It's kind of like if you're in jail for five years and you get out and a blonde in a little thong walks by. That's what that picture was."
Norton also said it was an "absolute lie" that this was all planned and Breitbart colluded with the hosts to "do his dirty work."
After all of that (and after a lengthy discussion on how to get the best cell phone pictures of your genitals), McGuirk asked Norton if he thought Weiner should resign. Norton said he initially didn't but Breitbart had pointed out the blackmail angle (the idea that Weiner endangered the country by making himself susceptible to extortion) and that that may have changed his mind. Still, he pointed out if you want a husband who doesn't cheat, a politician isn't the way to go as they all do. However, while Norton believed that was the case and thought Weiner would have been "sociopathic" to not deny the allegations the first time he was accused, the fact that he was still lying five days later troubled Norton.
Listen to all this as well as Norton's thoughts on the brewing Tracy Morgan scandal and which politician both he and McGuirk thought handled their affairs the best (hint: socks) in the clip from 77 WABC below:
Have a tip we should know? tips@mediaite.com