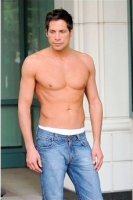 Last week, Gawker announced that Girls Gone Wild founder Joe Francis had won its "douche of the decade" poll. Now, accusations of being a douche are hardly urgent legal matters, but the post in question also called Francis a "rapist," initially — leading him to threaten to sue Gawker for allegedly causing him to lose a $10 million deal over the 'rapist' label.
At the time, some observers wondered how serious the threat was, given that his original email threatening suit CC'd gossip columnists and contained a shirtless picture of Francis with the line "I sent you an updated picture of how I actually look now so you can masturbate to it because you seem to be quite sexually obsessed with me."
When Mediaite contacted Francis, we received a response from his publicist Lisa Dufort to the effect that he still plans on suing, and that the suit will be filed on Monday.
The original "rapist" label in question was a hyperlink to an excerpt of a 2006 LA Times profile of Francis in which a woman who had sex with Francis when she was 18 raises doubts about how consensual the encounter had been. Gawker responded to Francis' email by changing the word "rapist" in the original post to "alleged rapist."
On Tuesday evening, Gawker Media's CFO, legal director, and director of business development Gaby Darbyshire told Mediaite via email that to the best of her knowledge, Gawker hadn't yet been served with legal papers, though she was not in the office. This squares up with Gawker EIC Gabriel Snyder's earlier statement to Page Six (whose Richard Johnson was one of the recipients of Francis' original email) that "Gawker had not been served with any papers by Francis and that the site has no plans to take down its original story."
When Mediaite emailed Francis, we received a response from his publicist, Lisa Dufort, stating that "Mr. Francis is still proceeding with the suit against Gawker." The reason for the delay? "Due to the holiday it will be filed on Monday."
As to that elusive $10 million deal of Francis' that allegedly fell through in response to the "rapist" allegation: Darbyshire said that she had "no idea what the $10m deal is," and Francis' publicist did not comment on it. So we may have to wait until Monday to see what that's all about.
>>>Follow the author of this post on Twitter
Have a tip we should know? tips@mediaite.com