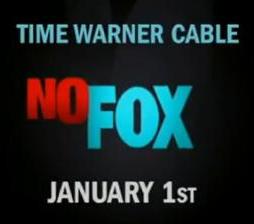 The impasse between FOX broadcast network and Time Warner Cable continues with less than a day remaining before the cable provider knocks the network and its cable outlets off the dial.
And as each side ratchets up the rhetoric, neither seem willing to show compromise. Could Fox really be gone from homes with Time Warner Cable tomorrow?
The Wall Street Journal explains where things are at right now:
The crux of tensions is a $1 monthly fee News Corp is seeking for local Fox TV stations it owns from each Time Warner Cable TV household. While several owners of broadcast stations have had some success seeking such fees in recent years, amid declines in ad revenue, the Fox network is seeking a much higher fee…People familiar with the matter said Time Warner Cable, one of the country's biggest cable operators, has offered to pay Fox a similar level of fees as other owners of local TV stations: roughly 25 cents. The price Fox is seeking would set a new bar, and potentially open the floodgates for other media companies that own broadcast TV networks.
And the Los Angeles Times' Joe Flint has some specifics on what may happen if no deal is reached:
Besides Los Angeles, where Time Warner Cable has more than 1 million subscribers, other cities that would lose the Fox signals include New York, Dallas and Tampa, Fla. Locally, Time Warner Cable subscribers wouldn't be able to get KTTV-TV Channel 11 and KCOP-TV Channel 13 as well as FX, Fox Sports West and Prime Ticket. Fox News Channel has a separate agreement with Time Warner Cable and is not affected by these negotiations.
News Corp. President Chase Carey is bracing employees for the probability no deal will be reached, writing in a memo to staff, "it looks like we will not reach an agreement and our channels may very well go off the air in Time Warner Cable systems at midnight."
As shocking as it sounds, both sides are still holding firm, and the effect will be seen immediately. On New Years Day night, one of the biggest NCAA football bowl games, the Sugar Bowl between Florida and Cincinnati, takes place – and airs on FOX. There will be many angry fans of both teams and sports fans in general if the deal is not reached. The possibility of a last minute deal looms – but as each side remains unwavering, there's a chance that, for at least a few hours, FOX and its cablers are headed off Time Warner Cable.
Either way, the clock is ticking…


—–
» Follow Steve Krakauer on Twitter
Have a tip we should know? tips@mediaite.com