John Kelly Reportedly Gave Ominous Warning to Tillerson About His Fate: Watch Out for a Trump Tweet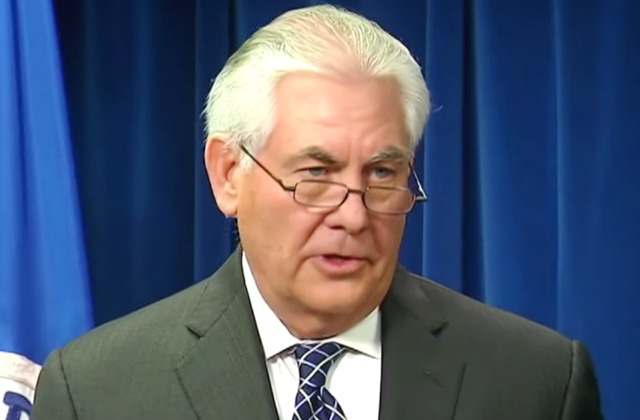 When did fired Secretary of State Rex Tillerson find out about his ouster? Depends who you ask.
The State Department said Tillerson only found out about his ouster on Twitter, but several White House officials reportedly claimed he was aware for days.
Meanwhile, two of State Department senior officials said White House Chief of Staff John Kelly called Tillerson on Friday to warn him that a "presidential tweet" could be on its way, according to AP:
Two senior department officials said Tillerson received a call from John Kelly, Trump's chief of staff, on Friday, but was only told that there might be a presidential tweet that would concern him. Kelly didn't tell Tillerson what the tweet might say or when it might actually publish, according to the official, who wasn't authorized to speak publicly on the matter and demanded anonymity.
Keeping the warning ominously enshrouded in mystery, Kelly left the timing and the details up for speculation, the outlet said. The next day, Kelly phoned in another reminder.
According to Yahoo's Oliver Knox, repeated calls from Kelly explicitly warned Tillerson of the firing on Friday and again Saturday.
HOKAY. Latest, from senior Trump aide: John Kelly called Tillerson Friday, told him he was being replaced. Kelly "made clear that it was imminent." Kelly called Tillerson again on Saturday and "reiterated the Friday conversation." White House hoping for…(1/2)

— Olivier Knox (@OKnox) March 13, 2018
Kelly called Tillerson on Friday night (DC time zone). Tillerson, on an Africa trip, canceled his events on Saturday (Kenya time) because he was feeling unwell (as State Dept officials said at the time). https://t.co/zXvOikgwkS

— Jennifer Jacobs (@JenniferJJacobs) March 13, 2018
AP's Zeke Miller reported that the White House claimed Kelly called Tillerson twice to warn him that Trump was planning to "take imminent action if he did not step aside":
WH official says chief of staff John Kelly called Tillerson Friday and again on Saturday. Both calls to Tillerson, the official says, warned that Trump was about to take imminent action if he did not step aside. When Tillerson didn't act, Trump fired him.

— Zeke Miller (@ZekeJMiller) March 13, 2018
Tillerson's dismissal wasn't exactly unexpected, as he anticipated holding office for only a year; however, it arrives at a tumultuous time amid continuing controversy with Russia and potential talks with North Korea.
Discussing the firing at a press briefing Tuesday, President Donald Trump chalked it up to a failure to see eye-to-eye with Tillerson.
"We got along actually quite well, but we disagreed on things," Trump said, also citing problems with the Iran deal.
"When you look at the Iran deal, I think it's terrible. I guess he thought it was OK."
Despite the upheaval, Trump maintained, "Rex is a very good man, I like Rex a lot."
Tillerson will be replaced by C.I.A. Director Mike Pompeo.
Have a tip we should know? tips@mediaite.com