John Oliver Warns the US After Botched Brexit Vote: 'There Are No Fu*king Do-Overs!'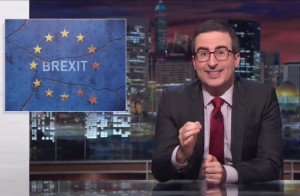 Just one week after delivering a strident defense of Britain remaining in the EU, John Oliver delivered an equally hilarious, blistering, and somewhat mournful recap of his home country's decision to go it alone, as well as a warning to America.
On Last Week Tonight the Sunday following last Thursday's Brexit (British exit) referendum vote, Oliver ripped Leave proponent Nigel Farage for immediately reneging on the Leave crew's promise to re-invest EU membership fees into the National Health Service. It was an argument experts said even during the campaign was bogus and one that was brazenly emblazoned on bright red buses in the weeks leading up to the vote.
He mocked Firage's fellow Leave advocate, former London mayor Boris Johnson, whom he likened to a racist teakettle, for declaring the Brexit to be "our country's Independence Day." Oliver spat back: "Britain was already independent. In fact, it was what other countries declare their independence from."
Oliver played a clip of one of the myriad people whose lives stand to be profoundly and negatively impacted by the vote — a Portuguese woman living in the UK, who had two daughters, one born in her native country, the other in Britain. She told a news crew that she didn't know how to explain her children't future situation to them. "Oh, perhaps I can help you with that, 'cause it's easy," Oliver offered. "Just tell them that they might be screwed because a pig-fucker called for a vote, a bus had some bullshit written on it, and then two idiots named Nigel and Boris quoted President Bull Pullman."
To the bizarre, discouraging phenomenon of UK citizen googling "What is the EU?" en masse in the days following the vote and appearing in front of news cameras to proclaim their buyer's remorse, Oliver was merciless. "It wasn't a practice vote!" he screamed. "That was it!"
And to any Americans who didn't believe that a "ridiculously-haired buffoon peddling lies and nativism" could ride a protest vote to victory, Oliver was stern: "Let Britain be a warning. It can happen, and when it does, there are no fucking do-overs."
Have a tip we should know? tips@mediaite.com