Journalists Call Out Clinton for Hypocrisy After She Criticizes Trump's Relationship with Press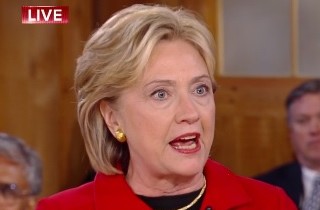 After Democratic presidential candidate Hillary Clinton attacked her Republican rival Donald Trump for his heavy-handed treatment of the press, reporters took to social media to point out that she also was taking unprecedented steps to block their access on the campaign trail.
The snarkfest began after Clinton tweeted the following, a line from her speech in Springfield, Illinois on Wednesday.
Trump has banished members of the press who have criticized him.

Is there any doubt he would do the same as president?

— Hillary Clinton (@HillaryClinton) July 13, 2016
But reporters retorted by pointing out that Clinton's own record of dealing with the press isn't exactly stellar, with many noting either her literal lassoing of reporters at campaign stops or her unprecedented seven-month stretch without holding a press conference.
Not good. But not being accessible to the press is also pretty darn bad. https://t.co/ota36ykkij

— Chris Cillizza (@TheFix) July 13, 2016
You haven't held a press conference in like 500 years. You literally corralled reporters to keep them away from you. https://t.co/HAoeCGSMZA

— Eric Geller (@ericgeller) July 13, 2016
He might even rope them off like cattle at a routine campaign event. https://t.co/zB1oVP48U7

— Eli Lake (@EliLake) July 13, 2016
Why has it be months since you last held a press availability? https://t.co/edkeylwEV5

— Zaid Jilani (@ZaidJilani) July 13, 2016
To be fair, at least he acknowledges we exist https://t.co/NK0nWDRSAs

— Ben Jacobs (@Bencjacobs) July 13, 2016
Not sure this is a road you want to go down https://t.co/QjmxVW4doV

— Stephen Miller (@redsteeze) July 13, 2016
Hillary has a perfectly fair and evenhanded policy of banning all press from her press conferences. https://t.co/0h2gbRJ6Jo

— Josh Barro (@jbarro) July 13, 2016
Once again, these candidates can't criticize each other effectively. Hillary has hidden from the press for 7 months. https://t.co/0McRloWKQ0

— Charles C. W. Cooke (@charlescwcooke) July 13, 2016
You haven't given a press conference in 2016 https://t.co/dcgFE3h0kV

— Justin Green (@JGreenDC) July 13, 2016
sorry when was the last time you held a press conference https://t.co/tzL9treMwS

— Andrew Desiderio (@desiderioDC) July 13, 2016
From the candidate who hasn't held a presser since December and whose team actually lassos journos. https://t.co/v3KFffutux

— T. Becket Adams (@BecketAdams) July 13, 2016
He should be roping them off and avoiding them like plague victims instead. https://t.co/UmbzJsqp2W

— Noah Rothman (@NoahCRothman) July 13, 2016
[Image via screengrab]
——
>>Follow Alex Griswold (@HashtagGriswold) on Twitter
Have a tip we should know? tips@mediaite.com