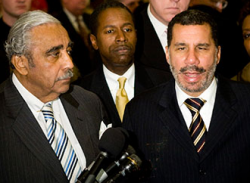 New York has had better weeks, politically speaking. Actually, that's putting it mildly. Ethics-plagued Charles Rangel "temporarily" gave up his chairmanship of the ways and means committee, and Gov. David Paterson…well, lets just say it remains to be seen whether he will last the week (in the meantime he's keeping the NYT's lights on!).
Perhaps not surprisingly there have been accusations of racism where Paterson and Rangel, both of whom have their political origins deeply embedded in Harlem.
The excellent Juan Williams was on Morning Edition this morning and was asked by Steve Inskeep whether he felt race played a factor involved when it came to the predicaments of either Rangel or Paterson. Why does it matter that they're African Amercan, how is that part of their ethical trouble here.
Answer: It's not.
Said Williams: "I think clearly race is always a factor in American politics but in a way this is the story of black politics in the age of Obama."
Namely, Rangel was pushed out by pressure from the Black Caucus: "That kind of action I don't think you would have seen in a previous age." Williams says Rangel's troubles are "Shakespearean" and must come as a "rude awakening" so late in his career.
Especially interesting to note is that Williams doesn't think the New York Times would have taken on a black politician in this state before the age of Obama: "In the case of Gov. Paterson, the New York Times, I can't imagine the New York Times taking on the first black governor of the state in the way that they have been doing at this moment before this age of Obama."
So, in a sense this does have something to do with race, just not at all in the way people have been speculating. The segment is below.




Have a tip we should know? tips@mediaite.com