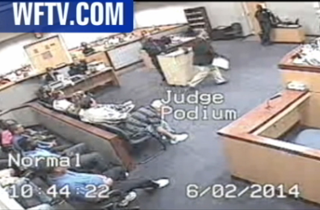 We love it when trashy courtroom televised dramas become real life, like yesterday in (surprise, surprise) Florida.
The background: Judge John Murphy allegedly was trying to get a public defender to waive his right to a speedy trial, and said public defender wasn't having it. After a heated exchange, Murphy descended from "impartial judge mode" to "Mortal Kombat mode", according to WFTV:
"You know, if I had a rock I would throw it at you right now," Murphy tells Weinstock. "Stop pissing me off. Just sit down."
"You know I'm the public defender. I have a right to be here and I have a right to stand and represent my client," Weinstock said in the video.
The judge allegedly asked Weinstock to come to the back hallway, an area where there are no cameras, which is where the fight broke out.
"If you want to fight, let's go out back and I'll just beat your ass," Murphy tells Weinstock before the two head out of the courtroom.
You can totally hear thuds and people awkwardly watching what we assume to be two middle-aged dudes punching the heck out of each other, as well as their relieved applause when deputies step in to break up the melee. Surprisingly, Murphy wandered back to the bench as if nothing happened, saying, "I will catch my breath eventually. Man, I'm an old man."
And no one was arrested, just because.
Watch below, via WFTV:
[h/t Reddit]
[Image via screenshot]
—
>> Follow Tina Nguyen (@Tina_Nguyen) on Twitter
Have a tip we should know? tips@mediaite.com